Broken dykes and river levees on the outskirts of Ho Chi Minh City have worsened the inner-city flooding that usually occurs at this time of the year.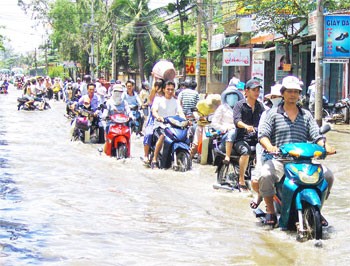 Flooding in Tan Binh District due to broken dykes occurs in rainy season
Ly Thanh Vuong, who works on a construction site in District 12, says the heavy rain and freak tides on August 31 damaged and in some cases destroyed entire sections of retaining banks and walls along the Saigon River.
Vuong fellow workers had to call on local residents to shore up the broken levees.
Most of the outlying dykes and embankments are in poor condition despite extensive repairs by district people's committees.
One such is the dyke running through Hoc Mon and Thu Duc districts. Mr. Thanh of Nhi Binh commune in Hoc Mon says the flooding happens every year and the locals have no choice but to pile sandbags around their homes in case the dyke fails completely.
The Ho Chi Minh City Steering Board for Flood Protection and Control yesterday criticized district authorities for the slow pace of flood-control construction, and cited the example of several projects in District 12, Go Vap and Hoc Mon that were meant to be finished last year but are still being built.
Basically, district authorities have failed to protect their residents against flooding.
In one case, the tide rose to 1.35 meters at the Phu An station in District 1, way above the normal level for this time of year.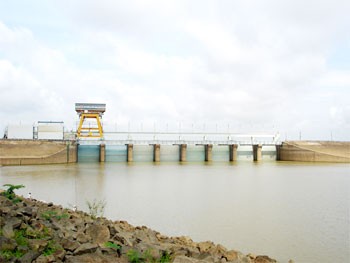 The discharge from the Tri An Hydroelectric Dam should release water after heavy rains. (Photo :U.Phuong)
Compounding the problem is the discharge from the Tri An Hydroelectric Dam in Dong Nai Province and the Thac Mo Dam in Binh Phuoc Province, which invariably have to release water after heavy rain.
Another is the Dau Tieng reservoir on the upper Saigon River, where the water level reached 22.68 meters on August 3. The excess water was to be released at the rate of 200 cubic meters per second, which would have swollen the Saigon River and worsened the situation downstream, but the flood control board told them to reduce the rate to 100 cubic meters a second.
At what rate the water was released cannot really be known, as it is difficult to monitor, but it could well have been above the requested rate as dam safety comes first.