Having pledged that the power supply would resume to normal levels as of July 1, blackouts have continued in Ho Chi Minh City nevertheless, and without advance warning.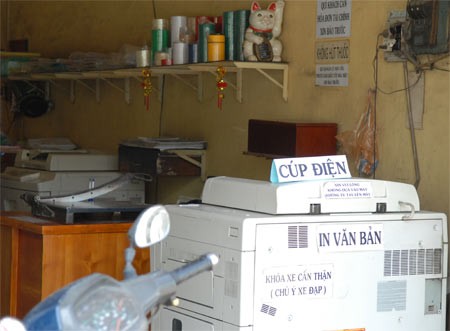 A photocopy shop in Ho Chi Minh City closed due to power cuts (Photo: SGGP)
At the beginning of August, the city cut off power in many places around one hour per day without giving any notice, said residents.
Specifically, on August 9, power cuts occurred at many wards in District 7 and Go Vap District, the blackout lasting around one hour.
On the same day, outages occurred in Binh Thah and Phu Nhuan districts, causing annoyance to residents and disrupting their daily activities.
The city Power Corporation said blackouts have been the result breakdowns in electrical equipment, which automatically shuts down the power when the grid becomes overloaded; such power cuts do not often last very long.
Nonetheless, the latest power outages have damaged production and both rural and urban areas and inconvenienced residents.
In April, the daily electrical output was limited to just 270 million kWh, while demand was 283 million kwh, the EVN said.
In May, the output increased by 5-10 million kWh to reach 275-280 million kWh a day, it added.