Renovations of the Ben Duoc Memorial Temple should infuse the landmark with more historic and cultural meaning to dignify those in the Saigon – Gia Dinh region who sacrificed their lives for Vietnam's independence struggle, the Prime Minister said.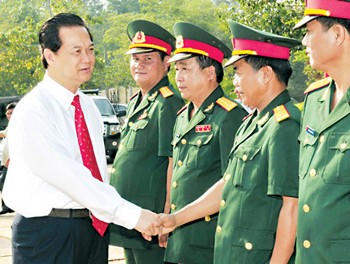 Prime Minister Nguyen Tan Dung meets military officers at the Ben Duoc Memorial Temple in Cu Chi District, HCMC, May 3 (Photo: SGGP)
Prime Minister Nguyen Tan Dung made the statement on May 3 while visiting the temple in Cu Chi District to burn incenses and commemorate the freedom fighters and martyrs who made the ultimate sacrifice. He said work on the site should focus on instilling it with humanism.
The temple is located at the site of the famous Cu Chi Tunnels, a staggering underground network used by local guerillas and resistance fighters to defeat the French and American invaders.
Together with PM Dung were HCMC leaders including Politburo member and the city Party Committee Secretary Le Thanh Hai and the city People's Committee chairman and member of the Central Party Committee Le Hoang Quan.
After visiting the temple, Mr. Dung instructed city leaders to draft plans to preserve and upgrade the temple, and add more historical and cultural items the exhibits currently on display there.
Prime Minister Dung then planted a tree on the temple's grounds and wrote his comments in the site's guest book.