Much of the electrical wires and cables in Ho Chi Minh City and its adjacent areas failed meet Vietnam Standards Systems (TCVN), the Vietnam Standards and Consumers Protection Association's center for consumption research and consulting announced on May 18.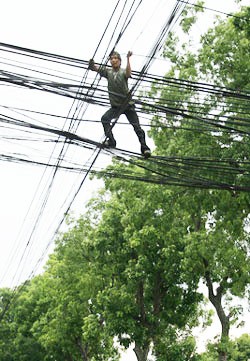 83% of electric wiring fails to meet quality standards.
The center contingent collected the 36 samples of electric wire made by 15 firms, and then checked their quality. 30 of the 36 samples taken, failed the test.
According to Technology Center No.3, 21 of the 36 samples had serious flaws, such as labels and symbols written directly on the electric wires and cables.
A decree on the Vietnam National Standards on electrical safety stated that penalties for failing to pass safety inspections would take effect in next eight months. Electrical apparatuses are required to meet safety standards. Unfortunately, if the samples taken in the recent study are representative of the electrical wiring system as a whole, less than 17 percent of the wiring in the area currently meets Vietnamese standards.
Therefore, many electric wire and cable produce companies have some work to do to in order to get their products up to code. The center said these companies need to pay closer attention to regulations, in order to ensure safety and quality.