The walk for AO victims and needy disabled people in 2019 was held by the city's Red Cross Society and other agencies.

Taking part in the event were Deputy Secretary of HCMC Party Committee Vo Thi Dung, Deputy Chairman of the city's Red Cross Society Dr. Tran Quoc Hung and Chairwoman of Vietnam Fatherland Front Committee To Thi Bich Chau.
The walk, with the message "Connecting, Sharing and Spreading", was organized in response to the month-long campaign for AO victims and poor people with disabilities and raised funds from organizations, enterprises and individuals for healthcare services and living standard improvement for AO victims and disabled people in HCMC and other cities and provinces.
Thousands people including elderly people and children walked three-meter distance. The event wanted to send a message "Don't forget them despite who you are, what your status in society to the community and your contribution will bring them trust in life."
At the event, the organizer also gave gifts to AO victims and people with disabilities who overcome their difficult circumstance as well as honor benefactors with golden hearts.
Taking part in the fundraising walk many times, Ms. Dung said she was happy because of doing good deed. She said that the walk not only shares loves but also calls for public attention to AO victims and people with disabilities who are suffering disadvantages and lacking opportunities to rise to good position in the society.
Therefore, public contribution will be an encouragement to them as she said.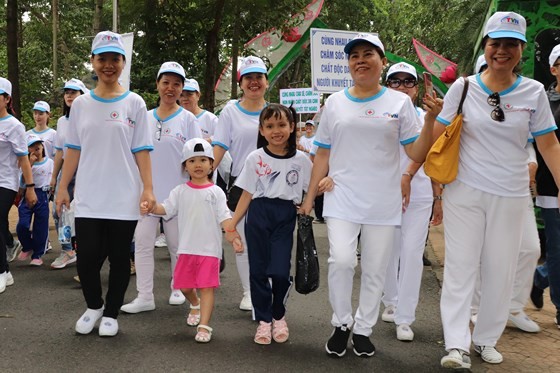 Adults and children take part in the fundraising walk (Photo: SGGP)
In 2018, the Red Cross Society through the walk fundraised more than VND1 billion ($43,078) to aid over 2,000 AO victims.
In the first six months of 2019, unions of all levels have given disabled people 164 wheelchairs worth nearly VND358 million and 95,863 Tet gifts worth VND44 billion to both.
At the walk, the Red Cross Society made a call not to throw away litter into canals and streets.