Dr. Truong Thi Xuan Lieu, former director of HCMC Department of Health, the new chairperson of the scholarship fund council said at the scholarship giving ceremony that the Nguyen Van Huong Scholarship has helped hundreds of medical students to complete their studies.
Sai Gon Giai Phong newspaper April 29 held a ceremony to give scholarships to 100 medical students at the hall of Pham Ngoc Thach Medicine University.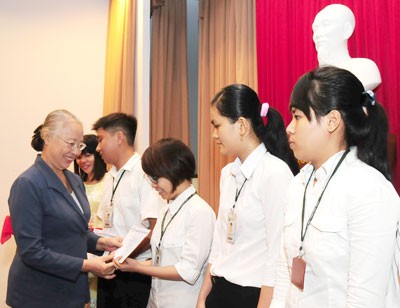 Dr Truong Thi Xuan Lieu gives scholarships to students (Photo: Mai Hai)
Dr Truong Thi Xuan Lieu All repeated the message of passed away professor Duong Quang Trung, former chairperson of the scholarship fund a doctor must work not only with his brain but also with heart and love for people.
For 15 past years, many students received scholarships to fulfill their dream of becoming a medical worker. One of them is Dr. Huynh Van Binh, working at the Department of Anesthesiology of Gia Dinh People Hospital.
Dr. Binh December 23, 2013 was given Qua Cau Vang (Golden Globe) Prize and certificate of merit for his scientific research by the Science and Technology Minster. Dr. Binh was present at the ceremony, saying that the scholarship had helped him to overcome difficulties and given wings to his dreams of a physician.
On behalf of 100 scholarship recipients, student Nguyen Thanh Tuan from Pham Ngoc Thach Medicine University, said that they will practice ethic and learn well to become an ethical and good doctor to satisfy everybody's faith.
Ms Ly Viet Trung -Deputy Editor in Chief of SGGP give sholarships to medical students (Photo: SGGP)
The scholarship fund management board honored benfactors who have contributed to the fund for many years. Contributions came from Medicine University, Pham Ngoc Thach Medicine University, Cho Ray Hospital, Tu Du Hospital, trieu An Hospital, International Maternity Hospital, Zuellig Pharma VN, Mekophar Pharmacy Company, well-known physicians such as Nguyen Van Huong's family, Dr. Ta Trung Quac, Dr. Nguyen Khanh Du.
The ceremony was attended by Dr Truong Thi Xuan Lieu, Ms Ly Viet Trung -deputy editor in chief of Sai Gon Giai Phong and representatives from hospitals, enterprises and medical students.