1911

Before continuing her voyage after leaving Saigon about four months earlier, the Admiral Tréville returned briefly. On board was Nguyen Tat Thanh [an alias of Ho Chi Minh when he was young], where he wrote a letter to have the French Resident Superior in Central Vietnam transfer a sum of money to his father, Nguyen Sinh Huy.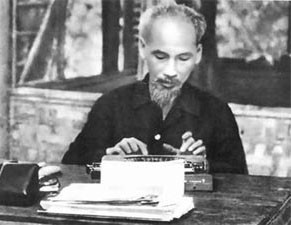 File photo of President Ho Chi Minh
1946

At the second session of the National Assembly, President Ho Chi Minh was authorized to establish a new government. He said: "It is the second time the NA has given me the authority to set up a new government. Since Vietnam has yet to gain independence and our country has yet to be unified, I, as well as everyone else, must accept any task assigned by the NA.

"I would like to announce before the NA, as well as the world, that Ho Chi Minh is not a person who clings to power and position or is greedy for fame and money. The new government I will set up must be one that unites the entire people, irrespective of their political parties.
"I also announce to the NA and the world that I will pursue this goal with only one party, which is the 'Vietnamese Party.' In addition, the new government must be honest, competent and brave, and must be determined to build the country, claim national independence and unify the country."

1949

In "Collecting and exchange experience" in the Su That (Truth) newspaper, the President wrote: "We must learn from anything we have done. That experience can be an individual or collective one, but it should include the experience of both failure and success.
We should then collect them and make them known to every cadre and every local authority, to help them apply the good and avoid the bad in their work. That way our shortcomings will become less and our strong points will be developed, and thereby we will progress further."

1959
Attending a conference on reviewing the management of agricultural cooperatives in the North, the President said: "We must first identify 'what goal do cooperatives aim at?' That goal is to improve farmers' lives, that is to say, to make them more well-off, healthy and educated. Our country becomes strong only when our people are wealthy.

"To get fruit one must plant trees. Likewise, to have well-off lives, we must be hard-working and thrifty. To this end, we must organize cooperatives well and encourage farmers to step up production and practice thrift."

The same day, Nhan Dan (The People) newspaper published "Welcoming the glorious victory of the great Soviet Union's science," written by Nguyen Ai Quoc, to mark the Soviet Union's successful launch of a satellite to take photos of the moon.

The article read: "About 100 years ago, Karl Marx said: 'Communists learn nature and use that knowledge of nature to create happiness for humankind and to build a better society.' His instructions have been carried out step-by-step."
1963

In "Good Party cells" in Nhan Dan, the President praised good Party cells in Can Loc commune in Thanh Hoa Province and Lang La in Ha Bac Province.

In regard to "Not yet good Party cells," he wrote: "The situation has come from the fact that many Party members and cadres are still set in the mind of individualism, selfishness, and localism. They just see their own interests and disregard the country's common interests."

1966
In a message to the Cuban people, the President said: "The Vietnamese people are very happy to have a brave and unyielding friend like the Cuban people, who have stood side-by-side with them in the front line to fight American imperialists."
By Duong Trung Quoc* and his assistants
The author is a historian and member of the National Assembly