1945
In the "Appeal to Southern People," President Ho Chi Minh accused "the French troops, who followed the steps of the British army, of killing Vietnamese people in the South."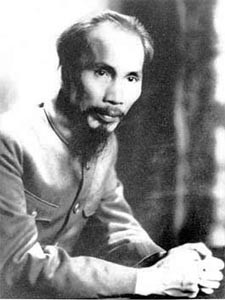 File photo of President Ho Chi Minh
He wrote: "In My Tho, Tan An, Bien Hoa and Nha Trang, the French are infringing upon Vietnam's independence. I am determined to stand side by side with millions of Southern people in fighting 'to the last drop of blood' to safeguard our country's independence and in proving to the world that the Vietnamese people are ready to fight against invaders despite all sacrifice they may suffer.
"In the past month, Southern people have maintained their firm and brave spirit, deserving to be an example of fighting against invaders in the world. The entire nation is keeping a close watch on the military situation in the South. I believe that the French will fail to occupy our country, despite their modern weapons.
"Our people, from North to South, are always ready to unite together to defeat the enemy. No army or weapon can knock down the brave fighting spirit of our nation. I believe that the harder the situation becomes, the more unyielding Southern people are.
"In the face of the invasion, our people have united into a solid force that cannot be defeated by any foreign army."
During the meeting of the Government Council the same day, the President suggested establishing a Famine Relief Society to call for support from everyone, including businesspeople, religious followers and even foreigners, for victims of ongoing starvation."
 
1950
While visiting Vietnamese soldiers wounded in the Border Campaign who were being treated in the Shuikou Hospital in China, the President said: "Our troops have achieved many victories. A window to the world has opened for our nation. The Party and I will never forget the combatants who were killed or wounded in action."
1959
Attending a Politburo meeting on preparations for the national Party congress, the President said that the congress's agenda should include many discussions, since "less debate means less democracy".

He said: "If time constraints stop us from organizing discussions, we will fail to collect opinions from the grassroots level."
1966
In his speech to welcome a visiting Cuban delegation, the President said: "From remote Latin America, you have brought here a love and a spirit of solidarity the Cuban and Latin American people have towards the Vietnamese people…
"Cuba and Vietnam are thousands of miles apart, but both our peoples feel very close to each other as if they were brothers. I hope that you will feel at home during your stay here."
1968
The President listened to a Politburo report about preparations for Vietnam to attend the Paris Conference and about the composition of a delegation from the National Liberation Front for South Vietnam who would attend the conference.
He also warned the agency that measures should be taken to cope with US propaganda against Vietnam and the North's risk of being bombed again by the US.
By Duong Trung Quoc* and his assistants
The author is a historian and member of the National Assembly