1945
 
At the Conference of Northern Workers, President Ho Chi Minh said, "Workers have to strengthen solidarity to preserve independence, [should not] make any claims, maintain discipline, and be calm at all events. Have confidence in the interim Government and obey it."  
1946
 
The President visited the Ethnic Minority Service, the Nung Tri Cao School for Ethnic Official Training, and the accommodations of National Assembly (NA) delegates preparing to attend the second NA session.
 
After a press meeting at the Bo Ho floating house, the President visited the headquarters of the Vietnamese Revolutionary League and met its leaders. 
 
On the same day, he visited the Hai Ba Trung High School for female pupils, received a delegation of the Nationalists' Union, and hosted a banquet in honor of diplomatic delegations, including British, US and Chinese consuls, and French General Morliere.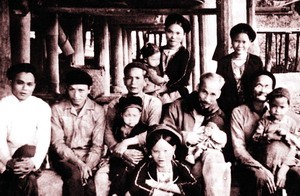 The file photo shows President Ho Chi Minh visiting an ethnic minority family in Viet Bac
October 1947

The President continued to work on his book "Modifying Working Style." 
In a section about agitprop and "anti-boasting," he wrote, "It's not good to write long but completely hollow things. Short but hollow is not good either. We have to resist shallowness. But first of all, we have to resist hollow and long writing. An advocate has to always ask himself: who are his readers. An advocate who doesn't investigate, analyze, study and understand the public, and writes anything will certainly be unsuccessful. 
"[If] we want to advocate the public, we have to know the public's speech. We don't oppose borrowing foreign languages to enrich our language. But we have to fight against improper borrowing that makes the public not understand.
"Not only people who undertake the agitprop – journalists, writers and artists – but all officials, party members and those who have contact with the public are also advocates for the Party. 
"Therefore, all have to learn the way of speaking, especially to the public. Every slogan of the Party has to express aspiration and purpose of Party members and millions of people. To do that, it has to be understandable. Otherwise, if there are ten thousand slogans, they will be useless."
1953
Nhan Dan (People) published an article titled "French youth fight against the war in Vietnam" he wrote under the pseudonym C.B. 
After recalling a message of the World Youth Congress in Bucharest, Romania, saying that "Peace in Vietnam is the youth's common interest," the President said, "Our resistance is the people's resistance and has been supported by French people and proletarians of the world. Therefore, we will surely win and the enemy will surely be defeated." 
1968
The President received Le Duc Anh (then Deputy Commander and Chief of Staff of Vietnam People's Army in Southern Vietnam, former State President), who had just arrived in the North from the battlefield, to hear his report on the hostilities in the South and eat a meal with him. 

By Duong Trung Quoc* and his assistants
The author is a historian and member of the National Assembly