1923
Nguyen Ai Quoc (an alias of President Ho Chi Minh during his revolutionary activities from 1920-1940) took part in the first session of the Peasant International Council including 52 members and was selected for the Presidium with 11 members.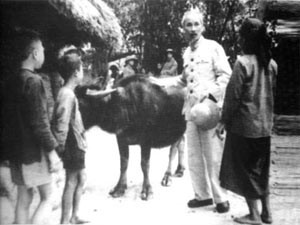 President Ho Chi Minh meets farmers in Tuyen Quang Province in 1953 (File photo)
1924
Nguyen Ai Quoc published an article entitled "Resident General Theodore Steeg and the Declaration of Human Rights" in Inprekorr. In a bitterly satirical tone, Nguyen Ai Quoc condemned the French general in Morocco who considered the Declaration of Human Rights written by the French as an act of sabotage in colonies.
The article stated that Moroccans must practice their human and citizen duties in their country.
"That means to fight for human and civil rights that the French did in 1789 and revolutionary proletariats have currently done," he said in the article.
1945
President Ho Chi Minh wrote a letter to people at local levels and published in Cuu Quoc (National Salvation) the article "Erase ways to be a fairy," criticizing the selling of titles and the raising of funds by forcing residents to contribute.
We successfully established the Democratic Republic of Vietnam. If the country is independent but people cannot enjoy freedom and happiness, then leading independence is meaningless, the President said in the letter.
The letter also angrily criticized wrongdoings by officials at local levels.
"Officials from central to village offices are servants of the people, shouldering common duties, not oppressing the people like French and Japanese colonialists," he said.
"We must love and respect the people, then the people will love and respect us… We are not to be afraid of faults, but we must correct mistakes after recognizing the mistakes," he added.
At the same time, the president sent a letter to US President H. Truman to suggest the US support Vietnam in the Far Eastern Advisory Council of the UN and affirmed "Vietnam can effectively contribute in resolutions for problems in the region."
In the evening, he attended a vegetarian meal in Quan Su Pagoda held by advisor Vinh Thuy (former King Bao Dai – the last king of feudal regimes in Vietnam) and signed a decree on general election.
1967
President Ho Chi Minh sent a letter praising a platoon of militants in Hoang Hoa in the central province of Thanh Hoa, who used rifts to shoot down the 2400th US fighting plane.
"You have been determined to defeat US invaders through loving the country and hating enemies. You have proved a Vietnamese expression: 'more advanced age, higher mind.'
"You are an example for the people nationwide to achieve victory in the resistance war," he said. 
By Duong Trung Quoc* and his assistants 
The author is a historian and member of the National Assembly