1920
According to French secret agents, Nguyen Ai Quoc (Nguyen the Patriot - an early alias of Ho Chi Minh) arrived at Val de Grace Hospital to visit a friend who was fined for taking part in a May Day demonstration.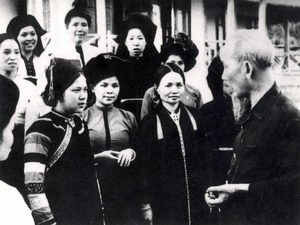 President Ho Chi Minh and ethnic minority woman
1921
Nguyen Ai Quoc brought a newly published Le Paria newspaper to the writer Henri Barbusse's house, where he met Pablo Picasso. The three went to watch the movie 'Capitalism and Religion' directed by Joris Ivens, a Dutch documentary filmmaker.
Nguyen Ai Quoc later wrote a review of the film for L'humanité, the newspaper of the French Communist Party.
1923
According to French secret agents' report, Nguyen Ai Quoc admitted worker to join Colony Alliance Association, found by Nguyen Ai Quoc and people from colonies living in France. 
The association included the Association of Vietnamese Patriots and Association for Workers' Rights of Madagascar. The Alliance published the "Le Paria"
1925
While in Guangzhou, China, Ho Chi Minh, under the alias Howang T.S., sent a report about the first working day of the first farmers' congress to the International Red Union and the second congress of workers in China.
His report described the development of the congresses and highlighted that the Kuomintang (Chinese Nationalist Party) in the region was working in cooperation with Russia, international communists, the Red Union and supporting peasants.
He also wrote that the Kuomintang was trying to unite poor people from the cities and countryside. Therefore, these leaders convened two congresses at the same time at a place.
1959
President Ho Chi Minh met an ethnic minority delegation who joined May Day celebrations in Hanoi. The President told them, "You ought to work hard to bring prosperity to everyone after we are no longer exploited by the imperialists. To achieve prosperity, people must increase production and unite together. It's like one or two people unable to lift a heavy stone, but 20, 30 people gathered together can do it. The government and the party always take care of ethnic minorities in the highlands and give further help."
1967
The philosophers Jean-Paul Sartre and Bertrand Russell organized the first sessions of the "International War Crimes Tribunal" in Stockholm, Sweden, to investigate and evaluate American war crimes in Vietnam.
President Ho Chi Minh sent a letter to the court. He wrote, "The first session of the international war crimes tribunal bear a significant meaning, especially when the U.S. carried out frenzied warlike activities to bomb Hai Phong harbor and Hanoi. The tribunal is a strong support to Vietnamese people and to all nations which are fighting for peace and independence."
By Duong Trung Quoc* and co-writers
*The author is a historian and member of the National Assembly