1924
Speaking at the fifth Congress of the Communist International in Moscow, Nguyen Ai Quoc said: "In all the French colonies, poverty and indignation are high. Uprisings by farmers are increasing. If we say their movements are not strong enough, it will be blamed on the fact they lack good leaders and organizers.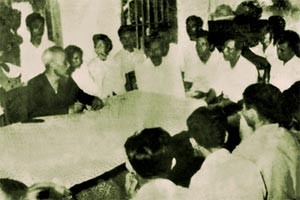 (Files) President Ho Chi Minh (L, in black) meets the Hung Yen Province Party Committee on July 3, 1958, to discuss measures to boost production and anti-drought efforts
"The Communist International should help them reorganize themselves, provide them leaders, and show them the way to revolution and liberation."
1946
During his stay in France, President Ho Chi Minh laid a wreath at the Unknown Soldiers' Monument and at the cemetery of Vietnamese combatants who fell in World War II.
Speaking to Vietnamese living in France, he said: "We Vietnamese should unite to bring glory to our fatherland, help our nation walk abreast with other nations, and bring happiness to our nation as well as to humankind to honor fallen combatants' sacrifices.
"Vietnamese living here should be aware of how to conduct themselves to gain the French people's sympathy and affection."
The same day he and French Prime Minister Georges Bidault were invited to an art show at the Grand Theatre in Paris.
1951
Discussing with Finance Minister Le Van Hien the proposed tax regimes for agriculture, industry, and trade, President Ho Chi Minh said: "To create tax systems, it is necessary to hold opinion polls and do comprehensive surveys and investigations."
1954

President Ho Chi Minh and General Vo Nguyen Giap held talks with Chinese Prime Minister Zhou-Enlai in the Chinese city of Liu Zhou on issues needed to be raised at the Geneva conference on an armistice in Indochina.    
The same day, in a letter to people, soldiers, and cadres in newly liberated areas in the North, he said: "What are you doing now? You must unite and love and help each other. You must step up production and trade to improve your life. You must be willing to support the resistance war. You must be on high alert and not underestimate our enemy."
1958
Meeting with people in Hung Yen Province, President Ho Chi Minh said: "Our farmers make up a strong, brave force with a lot of experience. This has been proved in our revolution and resistance war. If led by a good leader, they can fulfill any task, no matter how tough. Therefore, a leader of farmers must work with them practically, thoughtfully, and constantly."
1964
After being reelected as president by the third National Assembly, President Ho Chi Minh, on behalf of the new Cabinet, said: "I would like to promise the National Assembly we will always try our best to fulfill our duties and not betray the trust the National Assembly and the people place in us. As for me, at 74 I'm not too old and will get my job done. When the North and South are reunified and our country is strong and our people wealthy, I will be very happy."
About the Vietnam War, he said: "To put an end to the war is the 'cleverest' solution so that the Americans do not lose face."

By Duong Trung Quoc* and co-writers
*The author is a historian and member of the National Assembly