1922
During his stay in France, Nguyen Ai Quoc took part in some activities at the Club du Faubourg in Paris and attended a meeting of the Seine area's Communist party committee held at the Winter Circus.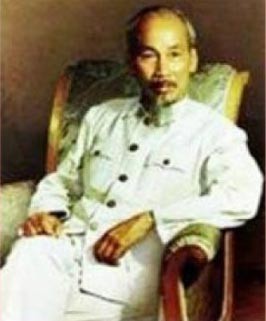 File photo of President Ho Chi Minh
1946
President Ho Chi Minh was invited by the French Government to the opening ceremony of the peace conference of 21 allied countries at Luxembourg Palace in Paris, where the French Senate was based.
1951
In a letter praising people and soldiers in Ha Dong town, President Ho Chi Minh wrote: "Owing to your close coordination with regular troops, you have smashed the enemy's scheme to surround our units with 10 battalions. You have ground down the enemy's strength. I highly appreciate your efforts. You should take advantage of this victory and try to consolidate your forces for greater achievements."
In a letter to the political commissar of Brigade 320, Van Tien Dung, President Ho Chi Minh praised his unit's military victories and said: "The entire unit should be educated in revolutionary thinking. Everybody must get along well with each other, sharing joys and sorrows. Everyone must overcome their difficulties since once we can overcome challenges, we will have an advantage over our enemy."
In a message to the National Educational Conference, he advised: "More attention should be paid to how to create close relations between education and people's lives, the revolution, and the building of our country. Education at schools must be connected with education and propaganda for the public."
The same day, in a letter to the Vietnamese community living in the Chinese province of Yunnan, he wrote: "You overseas Vietnamese must unite and support the Party and Government. You should show solidarity with the Chinese people and use the experience acquired from them for the sake of our country. Everybody and everything needs to improve for better performance."
1952
In "The US helps France" on Cuu Quoc (National Salvation) magazine, President Ho Chi Minh commented: "The US's support to France, which wants to improve its status in the world, is akin to tightening the noose on a man who is going to be hanged".
1959
President Ho Chi Minh paid an official visit to Alma Ata, the capital of the Republic of Kazhakstan, then part of the USSR.
1961
In "The 106-year-old student" on Nhan Dan (The People), President Ho Chi Minh spoke glowingly about an elderly Cuban woman who had once been a slave but made great efforts and became literate. He considered her achievement a victory for the campaign to eliminate illiteracy in Cuba.
1964
Attending a conference to review inspections made within the Party, he said: "Those inspections have contributed to the consolidation of our Party in terms of organization and ideology. We must promote our sense of organization and discipline, make criticism and self-criticism, and must take the lead in complying with Party discipline. You must be public-spirited and selfless and not prejudiced against anyone. Only that way can inspections be done well."
1966
A day after soldiers in the central Nghe An Province gunned down the US's 900th aircraft, President Ho Chi Minh sent them a letter of praise but he warned them not to be complacent about the enemy's military strength.
By Duong Trung Quoc* and his assistants
*The author is a historian and member of the National Assembly