1946

President Ho Chi Minh came back to his old house in Compoint alley in Paris where he stayed during his revolutionary activities. He also paid a visit to lawyer Bloncourt, one of his old friends. On the same day, he gave an interview to L'Action and held a party for bodyguards and servants who served him during his stay in Paris.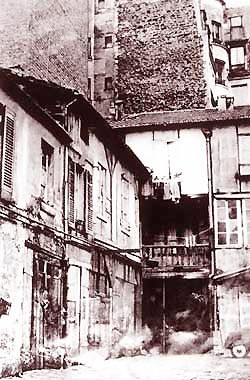 Compoint Alley, where President Ho Chi Minh stayed during his revolutionary acivities in France
1947
President Ho Chi Minh wrote a letter to elders, former mandarins, and people in the northern province of Phuc Yen expressing thanks for their support to the resistance against the French invaders.
He wrote: "In the old days, thanks to calls from elders, notables, and patriotic personalities and the enthusiasm of citizens, our ancestors like Tran Hung Dao, Le Thai To, and Quang Trung defeated foreign invaders and successfully protected the country ... We are determined to follow our national history, achieve unification and independence and build freedom and happiness for our people forever.
On the same day, the President wrote another letter to people living in occupied regions. He said: "While writing this letter I am heart-broken because I have not yet driven [our] enemies out of the country and you have to live in miserable conditions. However, I am still hopeful that after experiencing difficulties we are sure to achieve success, just like after cold winter comes warm spring."
On this day, the President also told a foreign journalist: "The National Assembly of Vietnam is elected by the Vietnamese people. The chief of the NA standing committee is a former high-ranking mandarin of the feudal Nguyen Dynasty, its deputy chiefs are a priest and a Democratic Party member.
"We are not focusing on the class struggle. In fact, we are providing conditions for Vietnamese capitalism to develop. However, [it] can develop only in a united and independent country. We also welcome capitalists from France and other countries to cooperate with us.
"Whenever France truly recognizes an independent and united Vietnam, the war will end immediately.
"You ask me about my own family. I would like to tell you that I have no house, wife, or children, but Vietnam is my great family, Vietnamese elders are my relatives, Vietnamese women are my sisters.
" I have only one ambition -- to make my country independent, united, democratic. After achieving this aim, I will become a normal citizen, travel a lot, read books, taking care of the garden."
1953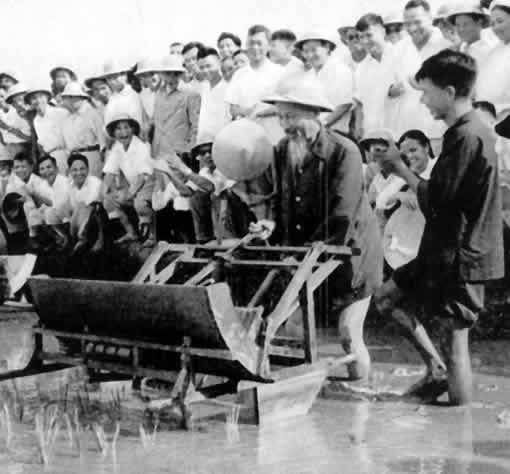 The file photo shows President Ho Chi Minh trying a rice transplanting machine on July 16, 1960.
The President wrote an article in Nhan Dan newspaper under the pseudonym CB. Titled "Try to protect dykes and prevent floods", it said: "The flood enemy is a pioneer of the famine enemy and ally of foreign invaders. It brings our people hunger to weaken our resistance. Hence the protection of dykes is aimed at fighting the flood and famine enemies. That is the reason why the protection of dykes must be considered a military operation."
1960
The president along with some NA members paid a visit to the rice research center belonging to Hanoi's Agriculture and Forest Department where they saw transplanting machines made by the Ministry of Agriculture. The President paddled in shallow water himself to try the machine. He praised the Ministry for making it and reminded NA members to be close to workers to understand their situation.
By Duong Trung Quoc* and co-writers
*The author is a historian and member of the National Assembly