1924
Nguyen Ai Quoc attended the first Congress of the International Organization to Aid the Revolutionary Fighters held in Moscow.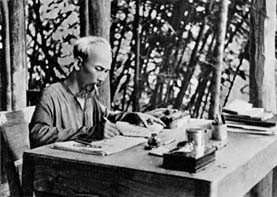 File photo of President Ho Chi Minh
1939
In "Letter from China: Review of the two-year war" in Notre Voix, a communist newspaper published in Hanoi, Nguyen Ai Quoc, under the pseudonym P. C. Lin, expressed his belief that despite the Japan's occupation of 12 Chinese provinces, 200 million Chinese people will surely win the war.
1946
President Ho Chi Minh, as an official guest of the French Government, was invited to attend a guard of honor to mark the 157th National Day along with senior French leaders, including the Prime Minister and the Congress Chairman.
In a congratulatory message to the French Government, he wrote: "The 14th day of July marks a sunrise for political freedom and social equality for every nation and everybody. For both our countries that are seeking cooperation in a friendly and sincere way, the day becomes more significant than ever."
The same day he enjoyed a fireworks performance at the Sacré-Coeur church in Montmartre Hill in Paris.
1951
In "French colonialist army" on Cuu Quoc (National Salvation) magazine, President Ho Chi Minh, under the pseudonym D. X., analyzed the division within the French army and concluded that "the French colonialists will fail since their troops have been aware of the irrationality of the war in Vietnam. For that very reason, we will win the war."
1960
President Ho Chi Minh attended the first session of the 2nd National Assembly in Hanoi. When informed that the legislature wanted to confer a medal on him, the President expressed his thanks but said he would not receive the honor until the country was unified.
1965
Speaking at a meeting of the Politburo, President Ho Chi Minh said: "The US will continue to step up the war. We must instruct the people about our protracted resistance war. We must be on high alert against them setting fire to forests by using B52 aircraft, and should move our bases whenever necessary. In the South, the people and soldiers must support each other. In the North, we must prevent the enemy's scheme to destroy dyke systems. All must be for an ultimate victory in the South."
1969
In an interview to Cuban reporter Marta Rojat, President Ho Chi Minh said: "All have their own suffering and all of those sufferings combined is my own suffering. I think I have yet to fulfill my revolutionary duties toward the Southern people, but I believe they still have love for me, just as I always love them. We will continue with our struggle and win the war. We have confirmed this stance and now we want to confirm it once again."

By Duong Trung Quoc* and co-writers
*The author is a historian and member of the National Assembly