1921
Reports from the French secret service said that Nguyen Ai Quoc, Nguyen the Patriot - an early alias of Ho Chi Minh, was working with French Communist Party members in District 17, Paris.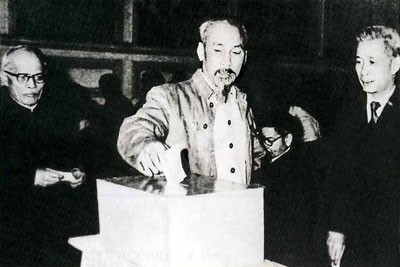 The file photo shows President Ho Chi Minh voting in the general election in July 1960.
1922
In Paris, Nguyen Ai Quoc, together with lawyer Phan Van Truong and engineer Nguyen The Truyen, visited Nguyen Van Vinh who had just arrived from Vietnam for the Marseille fair of colonies.
Nguyen Van Vinh was a progressive media activist and an anti-monarchist.
1931
In the case of "Nguyen Ai Quoc in Hong Kong," Tong Van So, another alias of Nguyen Ai Quoc, was grilled for the first time after being arrested by Hong Kong authorities.
1946
President Ho Chi Minh received French visitors, among which was the former governor- general of Indochina and minister of colonies A. Sarraut.
A dairy by an unnamed author read: "At 8pm the President received French investors and discussed cooperation between Vietnam and France."
1948
The President wrote a letter to a conference on education held at Viet Bac resistance base.
The President contributed his ideas to an educational program, the training of teachers and increasing public academic standards.
1954
In an article, "Sending reports and asking for orders," in Nhan Dan newspaper, the President discussed effective managers and executives.
The President wrote: "While writing reports, managers must carefully study documents and report only the truth.
"Absolutely avoid ambiguous and false reports, not talking only about good things and hiding mistakes," he reminded managers and executives.
1960
After the general election, the President wrote an article, "Our National Assembly is great," which praised the historic role of the first National Assembly (NA) and welcoming the second NA.
"The first NA was an NA of the resistance war. The second is an NA of socialist building and fighting for national unification," the President wrote.
1966
Under the pseudonym Chien si (Soldier), the President wrote an article, "We must evacuate people."
The President said: "Evacuation is essential in anti-aircraft defense. To people who have to leave cities and people who welcome evacuators, I would like to tell you to remember a Vietnamese tradition: people in the same country always love each other."
By Duong Trung Quoc* and co-writers
*The author is a historian and member of the National Assembly