1946
 
On the occasion of independent Vietnam's first Tet, Uncle Ho wrote to young people and children nationwide to encourage them to take part in "New life," a campaign he had launched.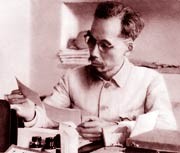 President Ho Chi Minh at work at the President's Palace in 1946
The letter said, 'New year begins in spring. Life begins in youth. Youth is society's spring. Therefore, you guys have to volunteer to practice a "new life" in the new year.
'New life means being enthusiastic, determined, and unafraid of difficulty and misery; studying hard, working hard, and practicing thrift; doing what should be done without waiting for a reminder; avoiding what should be avoided without waiting for its prevention.
 
'We practice "new life" as the new year comes to become new citizens worthy of the Socialist Republic of Vietnam.'
 
1947
 
After the resistance had broken out nationwide nearly a month earlier, on January 20, 1947, Uncle Ho wrote to people living in cities where there was violent fighting. He advised a high-ranking monk at Ngu Xa Pagoda to evacuate.
 
In the afternoon, the President and delegates could not go to Ha Dong for the Government's first meeting because the road leading to it was extremely slushy.
 
1948
 
President Ho Chi Minh and top-ranking resistance fighters set up a permanent revolutionary base in the Viet Bac countryside.
 
On January 20 he signed many important decrees. One of them was to bestow the rank of general on Vo Nguyen Giap, commander-in-chief of the armed forces and police and head of internal security, and that of brigadier general on many military leaders who later become famous generals -- including Hoang Van Thai, Hoang Sam, Tran Tu Binh, Van Tien Dung, and Le Hien Mai.
 
This was an historical event marking the coming of age of the People's Army after it had overcome fierce challenges in the resistance against the French colonialists to protect the independence that had just been won.
 
1962
 
Uncle Ho participated in a Politburo meeting in Ha Noi to discuss corruption and squander.
 
At the meeting he said bureaucracy, squander, and corruption harm people. Squander and corruption are crimes against people and everyone has to fight them, he said.
 
The same day he signed a decision to bestow the title of "Labor Hero" on Major General German Titov, a Soviet cosmonaut who orbited the Earth for many days aboard the Vostok II.
 
By Duong Trung Quoc* and co-writers 

*The author is a historian and member of the National Assembly