1935: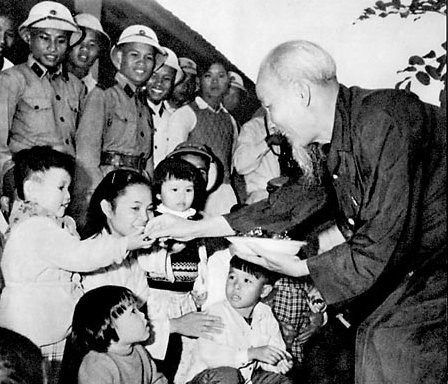 Uncle Ho offers candies to children at a kindergarten in Ha Noi in 1964
During his stay in the USSR, Nguyen Ai Quoc (Nguyen 'the Patriot', an alias of Ho Chi Minh during his revolutionary activities abroad from 1920 to 1941) sent a letter to the Orientation Office of International Communism saying most revolutionary activists in Indochina, China, Indonesia, and Thailand lacked awareness of revolutionary theory. He said the mistakes and intellectual impasse of the communist movement in the region were rooted in this ignorance. Nguyen Ai Quoc asked the office to help the region's activists by providing basic acknowledge to every revolutionary soldier.
Nguyen Ai Quoc also listed the books they needed, such as the Communist Manifesto, the History of International Communism, the Thesis and Resolutions on Colony's Issues...
He said these were the only effective ways to end the ignorance of revolutionary theory in Indochina where people did not have high education and the communist parties had to operate illegally.
1947
President Ho Chi minh drafted a call for acts of sabotage against enemy targets.
After the Call for the National Fight to mobilize the masses against the French colonizers, this was a very important appeal that sought to encourage people to continue their fight.
The president wrote: Why do we have to struggle? If we do not fight, the French will conquer our country for a second time and force our people to serve them again. We must rise up against the oppression of the French colonizers because we do not want to be their servants, because we must protect our country. Fighting includes sabotaging the enemy's constructions… We have to sacrifice temporarily for the country's sake. After achieving victory it is easy for us to rebuild the country."
1960:
President Ho Chi Minh wrote a story in Nhan Dan (People) newspaper, analyzing awareness of socialism.
"Building socialism must be rooted in "Cần" (hard-working). Cần means diligence and creativeness. Increase labor productivity is our way to prosperity," he wrote.
1961:
President Ho Chi Minh visited the Traditional Medical Institute where he warned: "Doctors writing right prescriptions but mixing herbs wrongly cannot treat patients. Doctors writing right prescriptions but cooking badly, not following sanitation rules, too cannot treat patients."
1966:
Ho Chi Minh held talks with senior officials studying 12th conference's resolution of the Party Central Committee.
Assessing the US interference and war expansion in Vietnam, he explained: Now, the US has 200,000 soldiers in Southern Vietnam, it may send more to 300, 400, or 500 thousand. But we can certainly achieve victory over the US.
Subsequent events proved his prescience.
By Duong Trung Quoc* and co-writers
*The author is a historian and member of the National Assembly