1923
 
Nguyen Ai Quoc, as a colonial member of the French Communist Party, worked hard to draw the attention of political circles to the colonial issue, especially Indochina.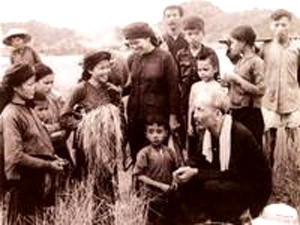 Uncle Ho visits farmers in Thai Nguyen Province in 1954
On January 15, in an article titled "Favorite native people" in Le Paria, he employed biting humor and Shakespeare's Othello to highlight the plight of colored people living in France and rip apart the hypocritical propaganda behind the claims of "democracy" and "justice." 
1946
President Ho Chi Minh signed decree No.5 to take away the management of the Hai Phong-Van Nam railway route from the Van Nam Railway Company.  
Van Nam Co. was entrenched under colonial rule and was the sole user of the major railway which linked southwestern China and Hai Phong port.  
Not only France but also China wanted to control the rail route. The decree said all properties of Van Nam Co. would belong to the Vietnamese State. 
To stabilize public order, he also signed decree No. 6. It spelled out the penalties for stealing, vandalizing, and cutting telephone lines. It also added supplementary functions to the Military Court. 
1947
In the country's archives is preserved a letter he wrote on January 15, 1947, to the Government Office about drafting a decree on official documents.
He wanted government agencies to create documents that were short, easy to understand, and without the use of French. 
1950
In a letter to the 5th National Police Congress, he said "Establishing a people's police system means the police must possess the spirit of serving the people and be their friends… The system must be simple and practical and the working procedure, democratic. People's remarks on police must be appreciated so that they can understand, love, and help the police." 
1952
He signed a degree to award the Independence Medal, 3rd class, to Bui Thi Cuc of Hung Yen Province for choosing to make the supreme sacrifice after being arrested by the French.  
1953
To mark the 30th anniversary of the death of Lenin, Uncle Ho wrote an article "Ky niem Lenin" (Commemorate Lenin) in Nhan Dan (People) newspaper. 
The article said, "Lenin taught us to fight against bureaucracy, embezzlement, and squander. Whether intentional or not, these three ills meant helping the enemy and harming the people, Government and Party… We commemorate and miss Lenin and have to learn and practice Marxism-Leninism more. This is the only way for us to win and successfully build the country." 
By Duong Trung Quoc* and co-writers
*The author is a historian and member of the National Assembly