1920:
As the secretary of the Group of Annamese Revolutionary Activists, Nguyen Ai Quoc (Nguyen 'the Patriot', an alias of Ho Chi Minh during his revolutionary activities abroad from 1920 to 1941) gave a speech at N.13 Chateau Street in Paris.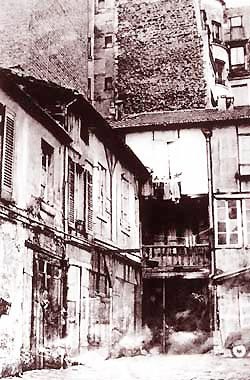 The house at N.9 Con Pont Alley in Paris where Nguyen Ai Quoc lived from 1921 to 1923
His theme was the development of Asian societies and requests from Annam (as France called Vietnam during its invasion).
According to a report by French secret agents, speaking to a friend several days after the speech, Nguyen Ai Quoc said: "If someone asks me where the Group of Annamese Revolutionary Activists is, I will say there are 20 million Annamese inside Vietnam who protest against the French colonizers every day but are suppressed. What will happen to me? Will I be banished? Will my head be cut off? I am not scared."
1921:
Nguyen Ai Quoc was admitted to Cosaint Hospital in Paris for a surgery on January 19 and he had to stay there until March 25. During his stay at the hospital, French secret agents kept a close watch on all the meetings of the person who had voted for the Third International (Communism International). In a report, an agent disguised as a visitor wrote:
"Agent: Why do you like to participate in politics? Are you not afraid of being followed or harmed?
Nguyen Ai Quoc: I like to be in politics which means I am not frightened of being killed or jailed. Everybody dies only once, so why are we afraid of death? I am going to establish an organization of close friends to help Indochinese meet and study politics. To form a strong organization, the most important thing is a unity of views and patriotism…"
1926:
While carrying out his revolutionary mission in China under the pseudonym Vuong Van Dat, Nguyen Ai Quoc was invited to deliver a speech at the second congress of the Chinese Nationalist Party. At the end of his speech, Nguyen Ai quoc said: "All occupied nations have been oppressed by imperialism. We must unite to overthrow the French imperialists and imperialists all over the world. All of us must protest against the common enemy."
1946:
President Ho Chi Minh signed a decree to nominate officials to the Committee for Country Building and Planning, an advisory office established at the end of 1945. The list of people he nominated included well-known intellectuals.
The leader's ability to attract talent helped not only to widen unity but also mobilize the nation's mental resources.
By Duong Trung Quoc* and co-writers
*The author is a historian and member of the National Assembly of Vietnam