1933
After being freed from a Hong Kong prison, Nguyen Ai Quoc decided to go to the UK. But he was forced to return to Hong Kong by the Singapore Government when his ship docked in that country.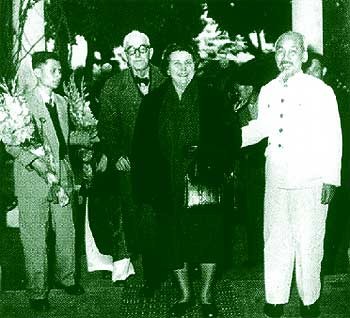 The file photo shows President Ho Chi Minh welcoming lawyer Frank Loseby and his wife in 1960. The British lawyer defended Nguyen Ai Quoc at a Hong Kong court and then helped him be released from prison in December 1932.
A year earlier the French Ministry of Colony had warned that "releasing Nguyen Ai Quoc could exacerbate the harmful revolutionary activities in Indochina. The Department of Indochina Security knows that he has invested his intelligence, authority and fame in the activities."
1947:
President Ho Chi Minh gave an interview to an American journalist for the first time since the war against the French had begun. He told the interviewer that the Vietnamese people hoped the US would help small nations achieve independence as President Roosevelt had promised and Vietnam was ready to welcome American journalists to research the country's situation.
1967:
Twenty years later the US not only did not support Vietnam's quest for independence but also waged war against it. The anti-war movement began to spread all over the world.
As a visionary leader, while strongly encouraging his people to fight for freedom, President Ho Chi Minh also directed the opening of a diplomatic front for Vietnam to mobilize the support of people around the world.
On January 12, 1967, President Ho Chi Minh received a delegation from an international court that arrived in Vietnam to investigate war crimes by the Americans. The same day he received Professor H.S. Ashmore, former editor-in-chief of the US newspaper Arkansas Gazette, and two officials from the US Department of State to study ways to end the war.
The President told them: "We have not invaded or bombed the US. While you are bombing our country you cannot ask us to open talks. Opening talks at this time will not mean negotiations... It will mean begging for peace, giving up."
"Our people love peace. We desire to end the war. But independence and freedom can never be negotiated.
But the meeting signaled Vietnam's principled goodwill towards the US, and paved the way for talks that opened after the 1968 Tet Offensive.
By Duong Trung Quoc* and co-writers

*The author is a historian and member of the National Assembly of Vietnam