1920
At the 18th Congress of the Socialist Party of France, which voted to decide whether it would follow International II or International III, Nguyen Ai Quoc (an alias of Ho Chi Minh), decided to follow the latter.
Explaining his selection, he said: "I clearly understand one thing: International III is very interested in the liberation of colonies…. Freedom for our compatriots and independence for our country are all I long for…"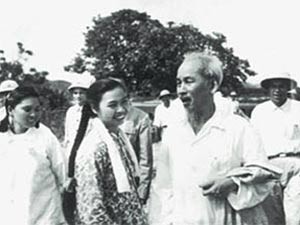 President Ho Chi Minh meets residents on Co To Islands off the northern province of Quang Ninh on May 9, 1961 (File photo)
He added: "I am very happy to attend the first congress of communists. It is the first time in the history of the Communist Party of France that one member of the Party who is from a French colony is taking part in the congress's agenda. I consider it a good sign since it confirms that only in communism can people find true friendship and equality, and create harmony between communists in France and its colonies."
1952
Speaking at a Government Council held to review the country's situation in 1952 and discuss plans for 1953, President Ho Chi Minh said: "One shortcoming this year is poor leadership that has resulted in bureaucracy, embezzlement, and wastefulness [he referred to a corruption case in which the head of the Military Supplies Department, Tran Du Chau, was sentenced to death].
"In 1953 we must strictly and thoroughly carry out a policy of 'three-things-to-fight': corruption, wastefulness, and bureaucracy and cadres must take a lead in that fight. We must also improve our policy on cadres, with more attention being paid to training, promoting, and rewarding cadres, as well as recruiting new cadres with good qualifications and virtues."
1959
Commenting on the fact that the National Assembly passed the Marriage and Family Law, the President said: "This is a victory of historic significance. Execution of the law is a duty of every citizen."
1960
In an article to commemorate the 40th anniversary of the Communist Party of France, the President said: "As for me, it is thanks to my learning of our nation's brave revolutionary tradition and to improving myself through movements of workers and the Party that I have found the truth of Marxism and Leninism and turned myself from a progressive patriot into a socialist fighter."
1965
The President conferred a certificate of merit on the Sapper and his written comments that said: "Vietnam People's Army's Sapper has showed its determination to defeat American invaders, has bravely overcome all difficulties, has fulfilled all tasks, and has greatly contributed to the common victory of the entire people and army."
1966
At the year-end meeting of the Government, while speaking about goods circulation and distribution, the President said: "We must remember two important things: first, we do not fear any material shortage but we fear inequality; second, we do not fear poverty but we fear social insecurity."        
By Duong Trung Quoc* and his assistants
*The author is a historian and member of the National Assembly