1920
At an afternoon session on the opening day of the French Socialist Party's 18th Congress, Nguyen Ai Quoc emphazised his purpose for attending the meeting, saying that "I came here as a Socialist Party member to put up resistance to hideous crimes [being committed] on my homeland… The French capitalists used bayonets to conquer our country… The Socialist Party needs to engage in practical activities to support oppressed natives… The Party has to disseminate socialism in colonial countries, and appraise the importance of colonial issues.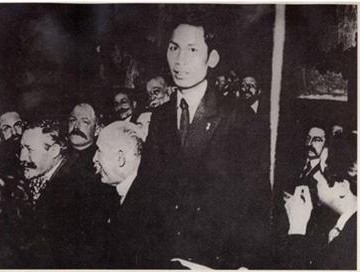 Nguyen Ai Quoc at the French Socialist Party's 18th Congress in Tours in 1920. (File Photo)
"In the name of all people, socialist members, both right and left factions, we call upon comrades [you] to save us."
The meeting's chairman said, "The Socialist Party is on your side to protest the bourgeois class' crimes."
1945
President Ho Chi Minh gave an interview to journalists about the establishment of the Coalition Government.
Responding to the question "Why are 70 seats in the National Assembly saved for the Nationalist Party, it isn't democratic, is it?" he said, "To approach democracy, sometimes contravention is necessary. For instance, to have peace sometimes [you] have to make war."
Asked why he didn't appoint himself as President, he said, "Because I don't want to be French King Louis XIV."
Regarding foreign affairs, he said, "True strength is like a gong and diplomacy is the sound. If the gong is big, the sound will be loud. To understand clearly, look at world history. It takes a rather long time to be recognized by other countries."
1963
He visited and wished a happy New Year to the Government Council that was holding a year-end meeting.
He told the council members that "At present, the movement of 'three buildings, three things to fight' is still implemented poorly. Workers and staff are very ardent, but directors, ministers and deputy ministers are not, so the movement is stumped in some areas. Now, the movement has to be implemented from lower to higher and higher down to lower levels. You are well aware none better than you - ministers, deputy ministers and authorities - that this movement is very important and you have to implement it well.
"[You] have to always set an example in all aspects and revolution morals: being diligent, honest, public-spirited and selfless, and practicing thrift. In this way, you can be worthy of the Southern people who are fighting heroically. Our people are very good. If we are exemplary officials and know how to lead people, all difficult tasks will be completed."
1965
At an ongoing session of the Party Central Committee's 12th Congress, he said that Vietnamese people are determined to fight in all situations, but willing to settle the war by peaceful means.
On the same day, a newspaper published an article titled "A robber talks about peace," which he wrote under the pseudonym Chien Si (Soldier).
The article said, "With iron-like spirit, we are fighting heroically, trying to produce and practice thrift, and not afraid of hardship and sacrifice, the US will certainly be defeated."
By Duong Trung Quoc* and his assistants
*The author is a historian and member of the National Assembly