1919
 
A French intelligence report said that Nguyen Ai Quoc attended a meeting of the CTG Trade Union, where he gave out copies of "Claims of the Annamite people."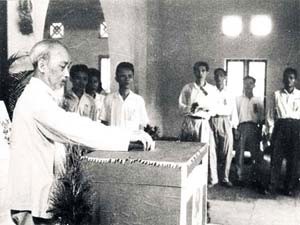 File photo of President Ho Chi Minh

1924


 
From Guangzhou, China, Nguyen Ai Quoc sent a letter to the Oriental Department of the Communist International reporting that he had received some comrades coming there from Indochina. He asked the department to assign some Russian comrades in Guangzhou to support his activities.

1945
 
In a letter to Southern soldiers published in Cuu Quoc (National Salvation) magazine, President Ho Chi Minh said: "The Government of the Democratic Republic of Vietnam praised you soldiers in the South, especially in Nha Trang and Tra Vinh, for your brave fight against foreign invaders. You have set good examples for soldiers elsewhere to follow. The Fatherland is grateful to you and the people will follow you." 
 
1949
In a letter to regular troops, local armed forces, militia, and guerillas, the President said: "Our army is a people's army, which loves the people and fights for the sake of the people despite any hardship or sacrifice. Our army always maintains and develops the liberation army's brave tradition and revolutionary virtues, including military discipline.

1953

The President sent a message to soldiers on the Bien Dien Phu front, advising: "You should fight more bravely, overcome all hardships, and keep your morale no matter what. You should be determined to kill the enemy, comply with the Government's policies, and achieve more victories."

The same day, in a letter to a political training class held in the Inter-zone V, he said: "The objective of the course is to train cadres and Party members to become loyal servants of the people … You should develop democracy in your units and among the public …"

1954

In "Welcoming the People's Army's anniversary" in Nhan Dan (The People) newspaper, the President said: "Ten years ago, French and Japanese troops entered Vietnam, causing misery for our people. At that time, guerilla groups started operations and they lacked everything but courage. Someone once asked me, 'How can a locust fight an elephant?' and I answered: 'We now have only dozens of guerillas but in the future we will have tens of thousands of brave soldiers.'

"People in Cao Bang and Lang Son Provinces believed in the success of our resistance war, so they encouraged their children to join guerilla units and wholeheartedly supported soldiers …"

He concluded the article with the following verses:

Our army has achieved numerous victories
At all times during the past 10 years
Our people always have a great love for soldiers

1958

At a ceremony to confer military ranks on several officers, the President said: "Whatever your ranks, you should behave well and must act as loyal and devoted servants of the people."

1959

At a banquet held to celebrate the 15th anniversary of the Vietnam People's Army, the President praised soldiers' achievements, saying: "Our army is brave not only in war times but also in times of peace."

1968

On the 24th anniversary of the Vietnam People's Army, the President came to the Martyrs' Cemetery in Hanoi to light incense for fallen combatants.
By Duong Trung Quoc* and his assistants
*The author is a historian and member of the National Assembly