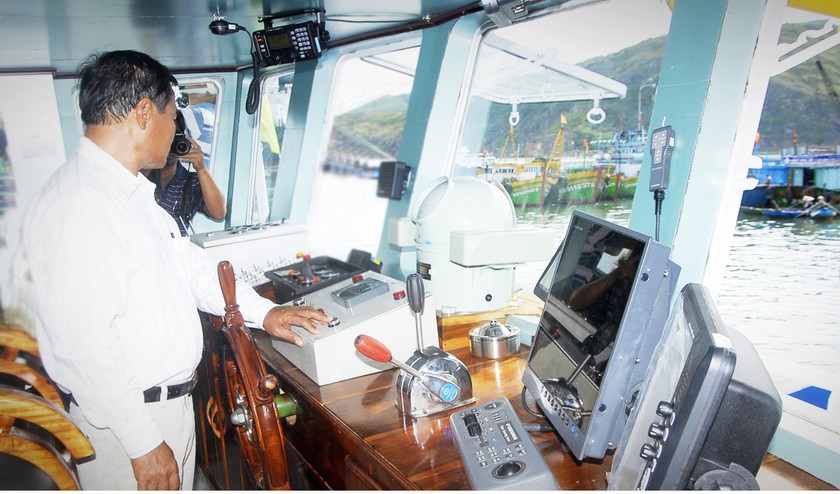 A ship in Binh Dinh Province equipped with a modern automatic driving system

Around the sea of De Gi in Phu Cat District of Binh Dinh Province, 52-year-old La Bo is considered the fishing champion. Large marine supply equipment companies in Ho Chi Minh City have asked him to pilot their newly developed devices. In 2013, he was even invited by 4 Japanese seafood businesses to be the ambassador who went fishing with their super-sized vessels.
Lately, even though he has no longer gone out fishing with his teammates, La Bo still frequently supervises his 1,030-horsepower ship working on Nam Con Son water via his smart phone.
He recalled that in 2008 and 2009, he had spent billions of VND to buy state-of-the-art fishing equipment, and his work became more fruitful a year later. Any fish schools within a radius of 1,000-3,000m could be located and then simulated in great detail thanks to those advanced devices, making the fishing task extremely effective.
Using the same method of technology investment to improve work performance is the fishing village of Vinh Loi in My Thanh Commune of Phu My District (Binh Dinh Province). It used to be so poor and isolated, but now becomes more prosperous thanks to modernizing fishing vessels and implementing advanced technologies in the work.
59-year-old local fisherman Do Chi Dung shared that he owns 4 such modern fully-equipped fishing vessels with a capacity of 900-1,000CV. In one of his ship, he installs an 8-billion-VND locating device for the three radiuses of under 1,000m, over 2,000m, and over 5,000m. There are also other useful machines such as a radar screen, satellite navigation, satellite charts, cruise monitoring screen, flow meters, walkie-talkies, wind gauges and storm warnings.
As a result, 2022 was the year Dung earned the most in the last 10 years, at more than VND90 billion (US$3.84 million).
Vice Chairman of Binh Dinh Province People's Committee Nguyen Chi Cong commented that Hoai Nhon Town is the leader at district level as to the number of offshore fishing vessels with a length of over 15 meters (2,100 ships).
At present, the town has a fisherman association with 680 teams. All offshore fishing vessels of the association have cruise monitoring equipment installed; therefore, in the last 2 years, no ships have violated the law against illegal, unreported and unregulated fishing (IUU).
Thanks to modern devices, the output of fishing vessels in the area last year reached more than 61,000 tonnes, equal to a revenue of VND2 trillion ($85 million).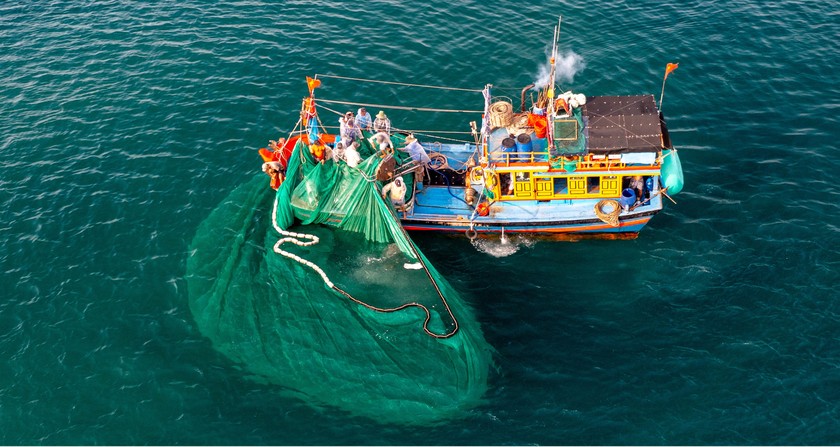 Technology implementation boosts fishing output

Cutting edge technologies are also set up at fishing ports to support fishermen. At Quy Nhon Fishing Port, when a vessel approaches a pier, the port's IUU team uses Onedrive and VNFishbase to help fishermen transport their products into the port with clear origin and gives instructions on a safe location to stay away from possible storms.
Director of Binh Dinh Province Department of Agriculture and Rural Development Tran Van Phuc informed that his department is asking for an approval to buy 100 electronic diary devices NKT-01 to release officers from manual administrative work and save time.
Vice Chairwoman Nguyen Thi Thu Sac of Vietnam Association of Seafood Exporters and Producers (VASEP) said that electronic fishing diary is a breakthrough in the restructuring of the seafood industry, so localities having offshore vessels should implement it as soon as possible.
She also proposed that leading regions in the industry like the provinces of Binh Dinh, Khanh Hoa, Vung Tau, and Kien Giang should establish wholesale markets and auction centers for seafood so that fishermen can update prices online, improving their competitiveness.