During previous days, water level unexpectedly rose high on local rivers which not only destroyed hectares of rice, plants and vegetables but also sunk hundreds of houses under water as well as killed three persons, reported the Central and Central Highlands Flood and Storm Prevention Centre on March 30.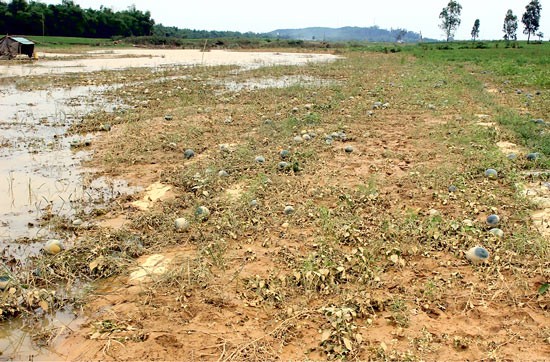 Watermelon crop is sunk under water. (Photo:SGGP)
Currently, local authorities and residents have joined hand to overcome difficulties and consequences after terrifying flood.
Initial statistics showed that heavy rains and flood destroyed two houses and sunk nearly 212 houses, 8, 217 hectares of rice crops and 3, 381 hectares of flowers, plants, and vegetables in the central provinces of Thua Thien- Hue, Quang Nam, Quang Ngai and Binh Dinh. Total damages are estimated at hundreds of VND billion.
Many vegetable and fruit crops with high economic value like watermelon, tobacco, and chili also were destroyed by flood.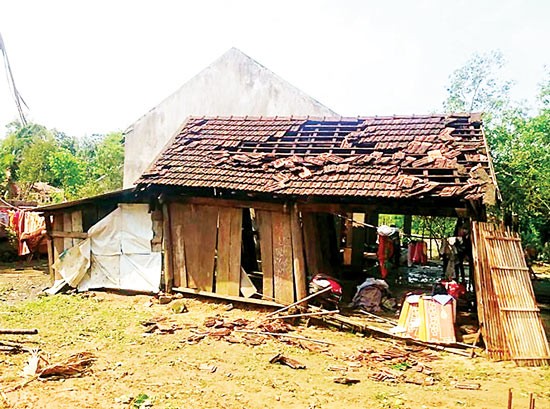 Cyclone, strong wind and hail destroy nearly 200 houses. (Photo:SGGP)
On the same day, Department of Agricultural and Rural Development in Ky Anh district, Ha Tinh province said that by 9: 45 pm on Monday, a several minutes- long cyclone accompanied with strong wind and hail swept through the communes of Ky Son, Ky Lam which blew nearly 200 house's roofs, 45 hectares of vegetable trees, electric poles, local health centers, cultural houses and schools.
Facing to the bad situation, People's Committee of Ky Anh district asked Department of Provincial Agricultural and Rural Development collaborated with local authorities and available resources to clean up fallen trees, and help people to repair their houses.