A Kien Giang woman with a six-month-old fetus growing inside her liver died from acute blood loss during emergency surgery at Tu Du Women's Hospital yesterday.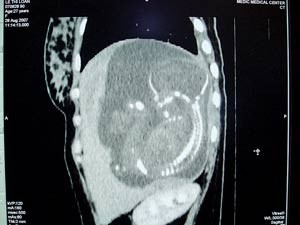 An ultrasonic image of the fetus

The 27-year-old was admitted to Kien Giang General Hospital two months ago and her condition diagnosed. The doctors there decided to remove her right fallopian tube.

However, the pain did not subside and she was taken to Tu Du Hospital in Ho Chi Minh City. Shockingly, the 22-week old fetus was found to be getting nutrients and blood from the mother's right hepatic artery.

Tu Du's Dr. Phan Van Quyen says the case is extremely rare. In fact, only 23 similar cases have been documented worldwide, three of them in Viet Nam.

In the two previous cases here, both mothers were saved after being diagnosed while their fetuses were small. In this latest case, the fetus was well advanced and doctors were afraid that it might tear the right hepatic artery and cost the patient her life.

An operation to remove the fetus was performed immediately and the 600-gram body of a dead female infant was removed from the mother's abdomen. At this point blood began pouring from the hepatic artery and, despite the surgeons' efforts, the woman died from major blood loss 15 minutes later.

Tu Du Hospital's director, Dr. Pham Viet Thanh, believes the patient could have been saved if her condition had been discovered sooner.

Unfortunately the case was an extremely difficult one as the fetus had reached six months and its placenta was closely attached to two thirds of her liver. When the fetus was removed, the mother bled inside her abdomen.

It's a grim reminder that pregnant women should go to a reliable hospital straight away if they sense something abnormal during their pregnancy.