Without treatment, mother-to-child HIV transmission rate would be 35 percent yearly, warned Deputy Health Minister Trinh Quan Huan on the occasion to launch a campaign to prevent mother-to-child HIV transmission in the country.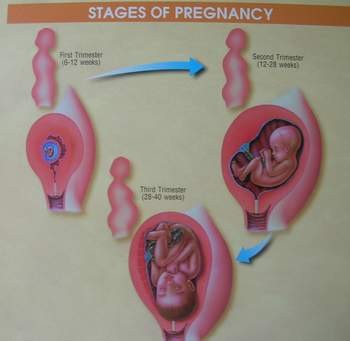 Stages of pregnancy. An HIV positive woman can transmit the virus to her baby during pregnancy, labor and delivery, and through breastfeeding.
Around 6,000 pregnant women are infected with HIV each year, 35 percent of their children is vulnerable to the disease if mothers don't receive preventive treatment. However, the percentage would be brought down to just 5% if mothers apply preventive measures, and over 1,600 babies are saved from fatal shears
Mother-to-child transmission is when an HIV-infected woman passes the virus to her baby. This can occur during pregnancy, labor and delivery, or breastfeeding.
The one-month campaign aims to encourage pregnant women to take HIV test to prevent the transmission of the virus from them to their children.
Expectant mothers are advised to go to health centers across the country for HIV test and being provided with medicine to prevent HIV transmission in case test shows they are positive with the virus. The medical check-ups will help pregnant mothers to know more about their health conditions and prevent the transmission from HIV infected mothers to their baby.
In the Ho Chi Minh City Ob-Gyn Tu Du Hospital, over 28 pregnant women come to the hospital for examination or give birth monthly, said Dr. Huynh Thi Thu Thuy, deputy head of the hospital. Medical workers fretted infected expectant mothers are younger.
A latest survey revealed the rate of HIV infected female group is increasing. Moreover, they have just been discovered they are infected when laboring, causing difficulty for prevention duty.
Would-be mothers didn't have access to medical check-ups to prevent transmission because they are not educated or they fear for discrimination. In other side, preventive medical services have not been provided widely in the country.
Vietnamese women are in general not taught to protect themselves. They only have two choices to keep the baby or eliminate him. Therefore relevant agencies should strengthen awareness among all classes of women and raise quality of preventive measures all over the country for the benefit of would-be mothers.