WHO's Vietnam office launched a new dual-language website in English and Vietnamese on January 16.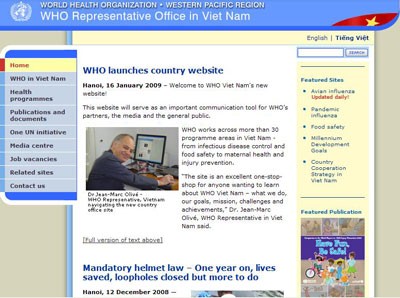 The surface of the web
It provides up-to-date information on the UN agency's programmes in Vietnam; advice and news on the latest health issues, outbreaks and emergencies; all press releases and speeches from the office; information on upcoming events in Vietnam and across the region; access to the WHO library; and direct links to UN agencies and partners.
Dr. Jean-Marc Olivé, WHO Representative in Vietnam, said: "I am particularly pleased that we were able to establish a full Vietnamese language site.  I hope the Vietnamese community, both at home and overseas, will access the site.
"Delivering timely and easy to understand health information is an important part of WHO's work," he added.
The site can be accessed at:
http://www.wpro.who.int/vietnam (English version)
http://www.wpro.who.int/vietnam/?lang=vi (Vietnamese version)