The World Health Organization (WHO) has developed a road map to help countries in the Western Pacific Region eliminate neglected tropical diseases to the pages of history.
Dr Shin Young-soo, WHO Regional Director for the Western Pacific, presented to the Regional Committee for the Western Pacific, WHO's regional governing body, the draft Regional Action Plan for Neglected Tropical Diseases in the Western Pacific (2012–2016) on September 27.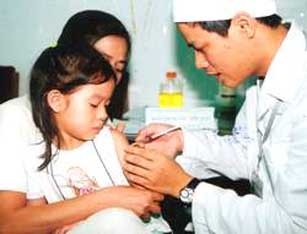 To eliminate measles disease, countries must now intensify their efforts to immunize all children, WHO says

The focus of the five-year plan will be seven key diseases: leprosy, lymphatic filariasis, foodborne trematodiases, schistosomiasis, soil-transmitted helminthiases, trachoma and yaws.
WHO has set 2020 as the target to eliminate the burden of some of these diseases, such as lymphatic filariasis, yaws and leprosy, through expanded interventions and intensive monitoring. An integrated approach is crucial for scaling up and sustaining access to medicines and other interventions against these neglected tropical diseases.
Limited funding for scaling up interventions has impeded progress. Success requires sustainable program management.
In addition, feasible action plans require innovative and collaborative solutions to barriers, such as reaching populations in remote and conflict-stricken areas. 
Well-trained health-care staff are also imperative for success. Front-line health workers need adequate training in detecting and treating neglected tropical diseases, especially as patients with chronic diseases, such as leprosy and lymphatic filariasis, may need lifelong care.
WHO also wants the Western Pacific Region soon to become the second of its six regions to eliminate measles. Endemic measles virus transmission has likely been stopped in 32 of the Region's 37 countries and areas. To eliminate the disease, countries must now intensify their efforts to immunize all children, particularly those in harder-to-reach communities and remote areas.
Measles incidence in the Region declined to a record 12 cases per million in 2011 from 82 cases per million in 2008.