A village in the central province of Quang Nam near the Co Co River is known to have nurtured many medical workers for the country.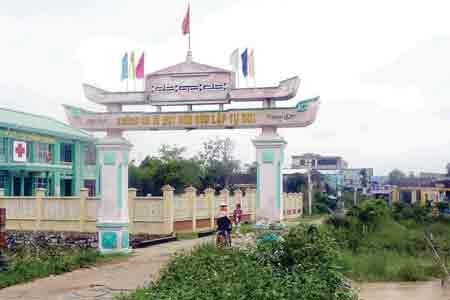 The gate into village Chay where nurture many medics
Village Thanh Quyt in district Dien Ban was founded more than 430 years ago. It has four communes. In the Chay commune, the Nguyen Van family is the most famous as skilled herbalists, followed by the Nguyen Huu and Le Tu families.
The Nguyen Van family is so famous in the village that residents call them "Nguyen Van herb". Herbalists of the Nguyen Van family are skilled at bone and joint treatment and renowned nationwide as obstetricians.
There are many touching stories of needy farmers who come to seek help of herbalists in the village. A few years ago, herbalist Nguyen Van Nghiep received a woman who wanted to remove a rather big foetus from her daughter's belly.
Listening to the small heart beat in the young mother's belly; doctor Nghiep quietly made up a prescription for the girl and showed them how to prepare the herbs.
Two years later, the mother and her daughter returned to doctor Nghiep's house to thank him. Apparently, the prescription he subscribed was a tonic medication and consequently the daughter had given birth to a beautiful healthy child.
There is no explanation why inhabitants in the village of Thanh Quyt are fond of this medical profession. According to statistics made by the Nguyen Huu family, 42 doctors, dentists, pharmacists and hundreds of nurses of the family are working in hospitals nationwide and in some parts of the the world.
Nguyen Huu Xep lives in California, USA and has six sons and daughters who practice medical and dental professions while Mrs. Bien Thoan has 10 grandparents as doctors.