At an emergency meeting on August 13, directors of departments of agriculture and rural development in southern provinces proposed to import vaccine to fight against the pandemic in the region as Vietnam has no effective vaccine for the disease in pigs.
Mr. Paht agreed to quickly import Chinese vaccine and then test its effectiveness.
In addition, Deputy Head of the city's Department of Agriculture and Rural Development Nguyen Phuoc Trung said the fight against the epidemic is like fighting against the fire, proposing a suitable compensation for breeders or else breeders would sell diseased pigs at very cheap prices which further spreading of the disease. Farmers are willing to report their ill herds because the government announced to give farmers VND25,000 per kilo of meat lost as compensation.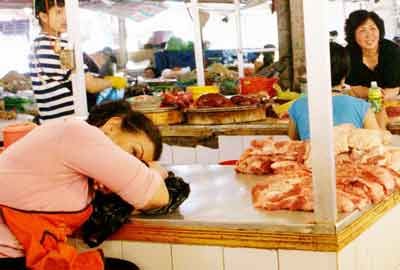 A pork seller in a market in Dalat City sees no purchase (Photo: SGGP)
Minister of Agriculture and Rural Development Cao Duc Phat and other officials had pork during break time to encourage residents who feared for the blue ear in pigs in the country to consume safe pork.
Because the Porcine Reproductive and Respiratory Syndrome Virus (PRRSV) – also called "Blue Ear" - has heavily hit two highlands provinces of Dak Lak and Lam Dong, residents don't want to eat pork, the consumption has declined.
The central highlands town of Da Lat has been affected although it is 200 kilometer far from Lam Dong. Pork sellers did nothing but chatting or sleeping because the market was going through a slump. A pork seller, Ms. Nhung, said the sale declined a half in one week.
The situation is the same in the city Nha Trang in the central province of Khanh Hoa. Traders petitioned to stop selling pork in markets, claiming that governments should raise public awareness more as customers turned their back even to safe pork with verifications.