There have been a reported number of infections and deaths implicating the H5N1 and H1N1 virus outbreak.
Vietnam does not have any cases involving the A/H7N9 virus that caused multiple deaths in China, said Dr. Tran Dac Phu, chair of Department of Preventive Medicine. Authorities are on high alert for the virus during the wet season.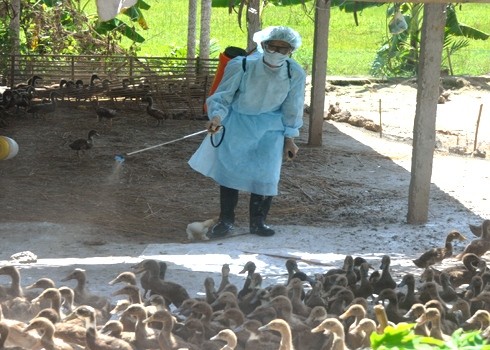 Ministry of Health has warned people not to eat diseased or ill poultry.
The virus H7N9 is quite hard to detect compared to A/H5N1 but it can easily cause death when transmitted to humans, said Dr. Phu. Most deaths from the virus in China occurred because they contacted with diseased poultry.
There have so far been a reported two deaths in the southern provinces of Dong Thap and Binh Phuoc caused by the H5N1 virus.
Outbreaks of H5N1 bird flu are recorded in some provinces such as Quang Ngai, Khanh Hoa in the Central, Nam Dinh in the North, Kon Tum in the Highland, Tay Ninh, Ca Mau, and Long An.
Nearly 70 percent of poultry samples test positive for H5N1 virus, especially among free-range waterfowl in the Mekong Delta. Over 60 percent poultry sold in markets are positive for the virus.
The Ministry of Health has warned people not to eat diseased or ill poultry without clear indication origins. The ministry also warns citizens to practice good personal hygiene and wash hands before meals. Please inform local governments and vets when experiencing poultry deaths. Citizens should promptly head to nearby medical clinics when experiencing fever, cough, breast pain and breathing problems.
Eleven Provinces Report Bird Flu
The Department of Animal Health under the Ministry of Agriculture and Rural Development has set up 15 mission teams to check bird flu prevention tasks in provinces.
Recently outbreaks of bird flu occurred in the central provinces of Khanh Hoa, Quang Ngai, Phu Yen; the highlands province of Dak Lak, Kon Tum, and the southern provinces of Tay Ninh, Long An and Ca Mau.
Medical workers from the Department of Preventive Medicine in Can Tho City keep their eyes on those who had contacted diseased in Phong Dien District as well as issued guideline on preventive measures to local residents.
There are about 40 million poultry in Mekong delta provinces including more than 16.7 million chickens, 50 percent of them vaccinated, and nearly 21.4 million ducks, 80 percent of them vaccinated.