On April 25, Vietnam's Ministry of Health and the World Health Organization marked the 10th anniversary of success in eradicating Severe Acute Respiratory Syndrome (SARS), which occurred in Vietnam in 2003.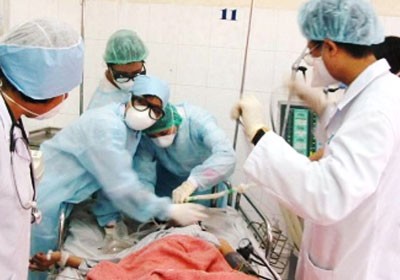 Medical workers treating a SARS patient in 2003 (File photo: SGGP)
Ten years ago, Vietnam recorded the first SARS case, a Chinese-American national on February 26, 2003. The patient was taken to Viet - France Hospital in Hanoi after he suffered fever and respiratory problems. The disease however spread rapidly in the country affecting 63 people and killing five.
On April 8, the country reported no new cases of SARS infection. On April 28, the World Health Organization recognized Vietnam as the first country in the world to contain SARS successfully.
Vice State President Nguyen Thi Doan confirmed that the country has been successful in containing the disease, proving that the country feels high responsibility towards the international community in sharing information of diseases with other countries, and in turn received much support from WHO and international friends.
Dr Takeshi Kasai, WHO representative in Vietnam, said the two new flu viruses including Corona virus in Middle East and H7N9 virus in China have risen but scientists have not fully understood the strain. More cooperation between nations in the world is needed to strengthen prevention.