Fact is that health insurance is a social security policy that most effectively helps people in time of need, especially those with low income.
Many local hospitals are implementing new user fees, as health insurance is proving to become more and more vital for poor and elderly patients, with the country's rapidly ageing population proving a serious challenge.
Vietnam National Ageing Survey reveals that in 2011 the country had 8.1 million people of 60 years-of-age or more, which number would double by 2019. This figure is rising more rapidly than in any other population group according to data from a national population change survey conducted last year. More worrisome for policy makers is that the potential support ratio for the elderly is significantly decreasing.
Vietnam is at a pivotal moment in its demographic history, as fertility and mortality have declined while life expectancy continues to rise, said an official in the Ministry of Public Health.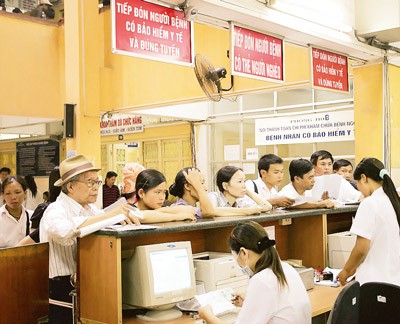 Most patients coming from rural areas are without any health insurance. (photo SGGPi)
In coming years, the number of older people will continue to increase, so Vietnam needs to have better policies for taking care of the elderly, he added.
Statistics show that currently only 6 percent of elderly people in Vietnam have good health and half of the total figure is without any form of health insurance. Research also shows that 39 percent of the elderly are still working, with females in rural areas working more than their urban and male counterparts.
In addition to new policies supporting the elderly, experts have also indicated that investment in health, education and employment opportunities for young people is important when catering for the needs of future elderly people.
At the recuperating center of the Central Hospital for Tropical Diseases, we see many serious patients, undergoing long-term therapy, with most coming from rural areas and without any health insurance.
Dr Nguyen Thanh Le told reporters that mild cases cost VND20-30 million for a course of treatment, while more severe patients have to spend hundreds of millions of dong.
While calculating medicine alone, in a normal case per day, cost can go upto VND10 million, so if the patient is in hospital for 2 - 3 weeks the burden increases on the family if patient does not have health insurance.
In many cases patients escape the hospital, drop out of treatment, and even return home to await death, for lack of money and health insurance.
Tong Thi Song Huong, director of health insurance under the Ministry of Health said, "At present, only about 64 percent of the population in the country has health insurance. To address this, the Ministry of Health has recently submitted to the Government a draft roadmap for national health insurance."
Director Huong added, "In this scheme, the biggest goal is to increase the number of people covered by health insurance. We hope that by 2015 the figure will reach 75 percent and by 2020 more than 90 percent of the population has health insurance."