There have been no cases of A/H10N8, A/H6N1 and A/H7N9 virus transmitted from poultry to humans in Vietnam, said Dr. Tran Dac Phu, head of the Department of Preventive Medicine on February 10.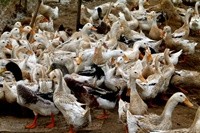 The outbreak was spotted at a farm in Giao Ha Commune, where 105 out of 500 poultry had unusual deaths last Tuesday
However, citizens must be alert because samples of dead poultry in Guangxi, China tested positive for bird flu viruses by the UN Food and Agriculture Organization (FAO). The black market trade of poultry between Vietnam and China is still happening.
Due to high risk of bird flu entering the country, Dr. Phu asked health units and market management forces to enhance security in border crossings.
Authorities will issue harsh penalties to smugglers and street vendors selling poultry of unknown origin.
More medical workers and heat-vision cameras are working around the clock at border gates to detect people entering by land, said Bui Thi Loc, Director of the Department of International Quarantine Medicine Center in Lao Cai.
About 1,000 people travel through border gates Huu Nghi, Tan Thanh, Coc Nam and Chi Ma everyday, said Ly Kim Soi, Head the Quarantine Medicine Center in Lang Son.  The crossings have heat-detecting cameras to detect people with fevers entering the country.