Dr. David Nabarro, the UN coordinator for avian influenza and the threat of a human pandemic, praised Viet Nam for its success in stopping spread of H5N1 virus despite the fact that Viet Nam had more people infected with the virus than other countries and had to destroy millions of poultry.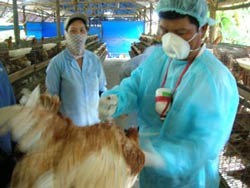 Veterinary officers inject poultry with vaccine against bird flu.
Viet Nam's experience is a precious lesson for any countries, said Mr. David Nabarro before his visit to Viet Nam.
"Viet Nam is one of the first countries hardest hit by bird flu and recently it is impressively successful in controlling the spread of avian influenza virus. I think Viet Nam can exchange its precious lessons with other countries, not only about fighting against a dangerous disease but also in terms of government's assistance and cooperation." said he.
Mr. David Nabarro expects to meet with Deputy PM Nguyen Tan Dung and other high level authorities on his visit to Viet Nam.