Viet Nam is ranked second in the world for the highest rate of liver cancers with 90 percent of the cases developed from hepatitis B, said a doctor from Singapore-based Gleneagles Hospital.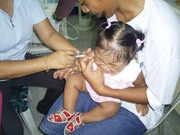 Children receive vaccine against hepatitis B, they rarely suffer liver cancer when they grow up
The ranking was quoted from the global cancer society by hepatologist and gastroenterologist consultant Desmond Wai at a seminar on liver diseases and liver transplant held by the Singaporean Parkway Healthcare Pte Ltd in central Da Nang city on April 20.
Wai said more than 20 percent of Viet Nam's population is likely to contract hepatitis B, adding that there are now some 400 million hepatitis B and C patients in the world with 75 percent living in Asia.
At the symposium, nearly 400 people whose relatives are suffering liver diseases and doctors from the city were provided with ways to prevent liver-related diseases as well as the latest treatment methods, particularly liver transplant technique that is considered a "golden chance" for liver cancer sufferers at the final stage.
Doctor Desmond Wai took this occasion to offer free counselling to local liver patients.
Parkway has annually performed around 20 liver transplant cases with a successful rate of 85 percent.