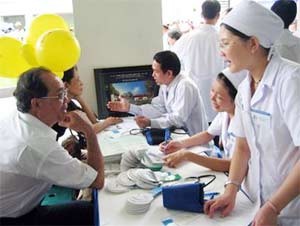 Viet Nam's health conditions has been improved thanks to many international organizations' supports. (Photo:TK)
Three Vietnamese projects have been selected to vie for grant funding in the final round of the 2007 Global Development Marketplace competition (DM) at the World Bank headquarters from May 22-23, the World Bank announced yesterday.
The chosen projects are "Development of Nursing in Viet Nam" by Peggy Cole and the Viet Nam Nursing Association; "Using Your Hands to Talk About Sex" by World Population Foundation Vietnam and the Xa Dan school; and "Enzymes and Empowerment: Improving Environmental Health in Thanh Son, Viet Nam" by the Australian Foundation for the Peoples of Asia and the Pacific and the Thanh Son
District People's Committee in the northern midland province of Phu Tho.
This year's DM attracted a record high of nearly 2,900 applicants narrowed down through two rounds of assessment to 105 finalists. As many as 250 health and development experts from inside and outside the Bank joined the competition in assessing the applicants. This year the total value of the awards is over US$4 million.
"The World Bank's work in health, nutrition and population is aimed at bolstering partner country efforts to improve health conditions for the poor and the vulnerable and to prevent them from becoming impoverished or made destitute as a result of illness," said Cristian Baeza, Acting Director for the World Bank Health, Nutrition and Population units.