ORBIS International, a nonprofit organization dedicated to saving sight worldwide, announced today it will replace its current DC-10 Flying Eye Hospital with a DC-10 Series 30 freighter.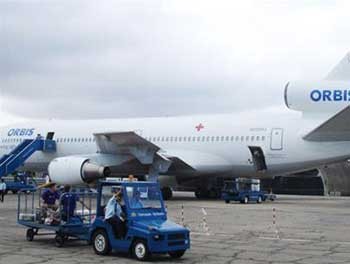 The ORBIS Flying Eye Hospital currently lands in HCMC
The announcement from Chicago says United Airlines of the U.S. is donating the airplane to ORBIS. The $2 million donation is based on the plane's estimated value and being funded equally by United and FedEx Corp.
The current Flying Eye Hospital is landing in Ho Chi Minh City from April 7 to 14 to treat poor patients. Doctors are performing surgery on about 60 people with glaucoma, retina damage, and sore eyelids. U.S.-based ORBIS is set to donate US$490,000 to the Ho Chi Minh City Eye Hospital to upgrade its pediatric department this time.
In today's announcement, ORBIS Executive Director Geoffrey Holland said, "Through the extraordinary generosity of United and FedEx, millions of people who would otherwise go blind or remain blind for lack of proper eye care will reap the rewards of advanced ophthalmic training."
 
"The new aircraft will allow ORBIS to continue its mobile sight-saving training for 20 years. This is a truly wonderful gift to the world," he added.
 
The new plane is about 10 years younger than the current aircraft and has a flying life of at least 20 years. ORBIS says the new Flying Eye Hospital will be more efficient providing greater range, lower operating costs and better reliability.
 
ORBIS says a team, consisting of medical personnel, architects and engineers, has been assembled to determine the design and architectural modification necessary to convert the freighter in to a state-of-the-art ophthalmic medical facility. The conversion of the plane is expected to take two years to complete.
The ORBIS Flying Eye Hospital is flown across the globe by volunteer pilots from FedEx Express and United, and its international medical team conducts treatment and training programs. Leading eye surgeons volunteer their time to perform surgery and teach aboard the aircraft during programs specifically designed to suit the skills-level of host countries.
Both United Airlines and FedEx Express are operating in Viet Nam.