Bach Mai Hospital in Hanoi has said that prolonged humid weather in the North Vietnam drove many kids to hospitals.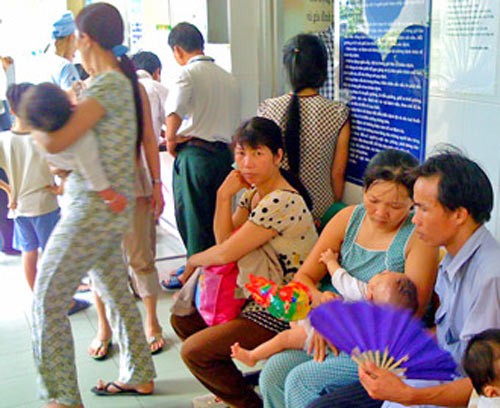 (Photo: SGGP)
Professor Nguyen Tien Dung, pediatric expert of the hospital said that because the humidity in the air is high plus unpredictable weather, many children were hospitalized, an increase of 20 percent compared to previous weeks.
The hospital's Pediatric Ward admits  200 children everyday; most of them were taken to the hospital when they had breathing problem and high fever.
The National Children Hospital has also seen a leap of sick neonates recently. Average, the hospital receives over 2,0000 children a day and 60 percent of them suffered respiratory problems. Worse, many of them were treated at homes so they experienced breathing failure and pneumonia accordingly they had put on ventilator.
Miserable weather not only caused children to have respiratory diseases but also infectious diseases namely measles, chicken pox, influenza and whooping cough. Parents need to keep environment in the house clean and dry and take children to nearby medical facilities soon when they have fever and breathing problems. Parents should not buy medications from nearby pharmacies to treat their children at homes.
In these days, the number of hospitalized children in two Pediatric Hospitals in Ho Chi Minh City surged drastically. Most of them suffered breathing problem and diarrhea.
The Children Hospital No.1 receives up to 800 neonates having diarrhea a day, three time higher than normal. In addition, parents also take their children to hospitals for respiratory diseases; for instance, nearly 80 percent of children taken to the Children Hospital No.2 have digestive and respiratory diseases.
Dr. Dinh Thac from the Children Hospital No. 1 said that the weather is so hot so food easily turns rotten; parents should pay attention to make food for kids. By statistics, every two children were hospitalized for diarrhea, one of them suffered the disease caused by Rotavirus is the most common cause of severe vomiting and diarrhea among infants and young children.

The disease can be treated if parents know how to treat it; however, many children were taken to the hospital when they suffered complications of diarrhea.