Underweight twins who were born thanks to in-vitro fertilization (IVF)  at the Central Obstetrics Hospital in Hanoi were discharged yesterday. The twins are the first IVF smallest babies who were saved from deaths and raised succefully by medical workers.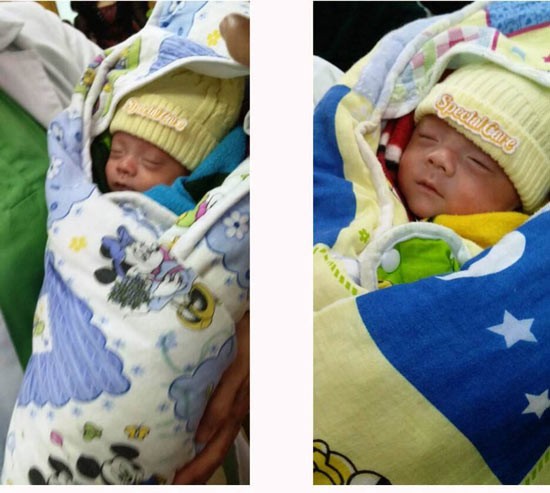 The twins on the day they were discharged (Photo: SGGP)
The babies were delivered at 24 weeks on December 5, 2014; accordingly the baby girl weighed 500 gram and the baby boy was 600 gram .
At the press conference yesterday, Dr. Nguyen Ngoc Loi, director of the hospital's Center for taking care of underweight newborn nbabies, said that their mother is Ho Thi Hai Yen, 29 , from the northern province of Thai Binh. The twins are her second children.
Her first baby was gaven birth by IVF method also.  This time she labored when the twins were at 24 weeks. Therefore they suffered breathing problems and weak reaction.
Soon, the twins were transfered to the center for taking care of underweight children in bad condition. The center doctors carried out intensive treatment and kept an eye on their breathing problem and blood index.
A daily nutritional supplement was infected by Intravenous injection in first two days and they were fed by tube in the third day. Medical workers had to calculte the proportion of their meals carefully. After three months, they were in better condition and living indexes are stable.
They were putting on weight. The baby girl weighed over 2.2 kilogram and the baby boy was more than 2.3 kilogram. They both can take 60 ml breast milk everyday.
Dr. Nguyen Viet Tien, Deputy Health Minister , said that no underweight babies was born prematurely could survive so far in the country. Hence, the twins are the first. Before, prematurely born babies usually suffered deaf or blind or mental disease, however, doctors have detected and treated these complication early; so they are no longer suffering. This is a very good result that the health sector has achieved, Mr. Tien added.
Doctors will continue to keep an eye on the development of the twins in order to early treat bad complication.