The central province of Quang Nam became the twelfth province declaring H5N1 bird flu as pandemic in two communes, after provincial authorities were compelled to destroy hundreds of infected water fowl.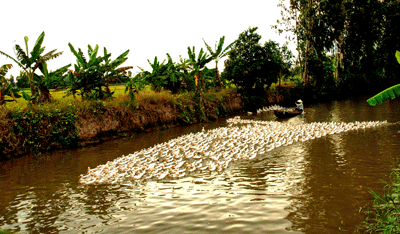 Raising water fowl in Vietnam (Photo: A. Quan)
Nguyen Thanh Nam, head of the Department of Animal Health in Quang Nam Province, said the provincial People's Committee on February 29 decided to officially announce a bird flu pandemic in Dien Phuong Commune of Dien Ban District and Dai Hung Commune of Dai Loc District.
The provincial People's Committee also ordered authorities in Dien Ban and Dai Loc Districts to take urgent measures to assist the neighbouring Dien Phuong and Dai Hung Communes to control spread of the disease.
Authorities have also been asked to issue a pandemic warning to all residents, trade, slaughterhouses and consumers and follow up with a ban on poultry.
In addition, transport of poultry into and out of the communes has been suspended.
Local veterinary agencies must examine the affected areas and spray disinfectants to prevent the spread of the virus. Almost 500,000 vaccines were injected in poultry to prevent any further spread of the disease.
However, all affected poultry will be destroyed as per instructions of competent agencies.
Anyone suffering from fever, cough and respiratory ailments should go to the nearest medical clinic for immediate treatment.
As of now, the virus has also appeared in three other districts of Hiep Duc, Nui Thanh and Duy Xuyen.
Before Quang Nam, several other provinces and cities had declared a pandemic, including Kien Giang, Hai Phong, Thanh Hoa, Ha Tinh and Thai Nguyen.
Along with bird flu, hand-foot-mouth disease has also re-occurred in Dien Ban, Que Son and Hiep Duc Districts, authorities reported.
According to the National Steering Board for Bird Flu Influenza Prevention and Control, the virus has spread to 12 provinces and cities nationwide, including Thanh Hoa, Quang Tri, Ha Nam, Ha Tinh, Quang Nam, Hai Duong, Bac Ninh, Hai Phong, Thai Nguyen, Bac Giang, Soc Trang and Kien Giang.
The disease has fatally affected three people, two of whom died in the southern Kien Giang and Soc Trang Provinces while the other, 22-year-old Truong Phu Son of Binh Duong Province, is still being treated in at the HCMC Tropical Disease Hospital.
Meanwhile, more than 52,000 poultry infected with the H5N1 bird flu virus have been destroyed nationwide.