A third case of cholera was confirmed April 9 in Ho Chi Minh City at the Tropical Disease Hospital, prompting the city Health Department to call for measures to prevent a possible epidemic.

The latest patient is a university student, T., from HCMC's Ward 7, District 5. T was hospitalized on April 6 suffering from acute diarrhea, vomiting, and severe dehydration.

The student said that a day earlier he had eaten a meal of rice, sour soup and braised pork at a street eatery near the city's Bong Bridge, Binh Thanh District.

Soon after eating, T. experienced a stomachache, which then led to severe diarrhea and vomiting over the next several hours.

"Almost every two minutes I had to use the toilet. I was also very fatigued and thirsty," he said.
According to the Tropical Diseases hospital, several patients suffering severe diarrhea have been seen over the past several days, including some acute cases.

Most patients said they had eaten food sold at street stalls before falling ill.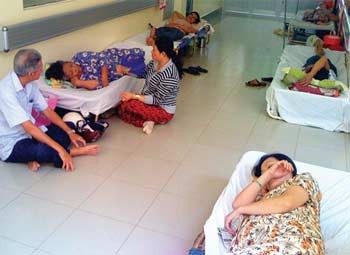 Patients suffering from severe diarrhea are treated at the HCMC Tropical Diseases Hospital on April 9. After the city's third cholera case of the year was confirmed, the Health Department has asked all district health authorities to prevent a possible epidemic. (Photo: SGGP)
Last week, a 25-year-old mother and her toddler from HCMC were the first of the year to be diagnosed with cholera in the city. The pair is still under treatment at the Tropical Disease Hospital.

Dr. Le Truong Giang, deputy director of the HCMC Health Department, emphasized that unhygienic street food was often the perpetrator of cholera.

At a meeting on April 8 between the Health Department and health officials from 24 city districts, experts said that the prolonged hot weather could be a contributing factor to the disease, as food is more prone to spoilage if not properly refrigerated.

Better public awareness needed

Cholera, the symptoms of which include acute diarrhea and vomiting, is caused by the Vibrio cholerae bacterium, spread through contaminated food and water, said Dr. Le Manh Hung, head of the Infectious Disease Ward A of the HCMC Tropical Disease Hospital.

If left untreated, the disease can potentially be fatal as it can cause rapid dehydration and kill an infected patient within hours.

People are thus warned not to consume street food that has not been well-cooked or drink water that has not been boiled, said Dr. Hung.

The Health Department has asked the Preventive Medicine Center to raise public awareness through a campaign on safe eating and drinking habits.

The program would focus on cholera prevention and control methods including cooking food well before eating, boiling water before drinking, washing hands before handling food, and not using unsafe water sources.

In addition, experts said it is urgent to tighten control over all water supply sources for daily living activities.

Food safety control to be tightened

At the April 8 meeting, the Health Department also ordered local health authorities to deploy measures to prevent a cholera outbreak, especially in areas where cholera patients are from.

Local health authorities have been asked to strengthen control over food hygiene and safety at all food processors and traders to prevent consumers from being inflected with the cholera bacterium.
Agencies will deploy such measures from now until May, the peak of the hot, dry season in which bacteria causing intestinal diseases spreads fastest.

The Preventive Health Center is also tasked with ensuring enough medicines and disinfectants to cope with the disease should it spread further.
Related articles:
City hospital confirms toddler suffering from cholera
HCMC sees first cholera case of 2010