According to the Department of Health in Ho Chi Minh City, 19 million people suffer from a stroke each year and more than 1,000 people succumb to the disease, with more and more young people adding to the number.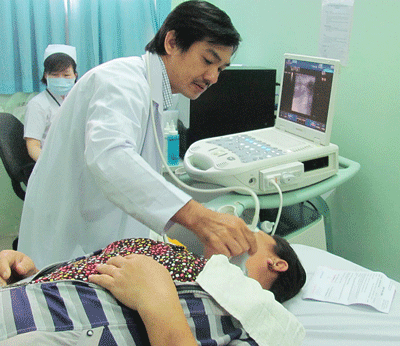 A doctor at People Hospital 115 treats a stroke patient (Photo: SGGP)
Nguyen Van Binh, 40, a patient from the southern province of Binh Duong, said one morning when he woke up he felt breathless and his limbs felt paralyzed and after attempting to walk a few feet he just collapsed unconsciousness.
His relatives rushed him to the People Hospital 115 in HCMC on September 15, but the sudden stroke has left him with a twisted mouth and paralyzed on the left side.
Similarly, housewife Nguyen Thi Phuong, 41, from To Hien Thanh Street in District 10, said she first suffered high blood pressure on September 14, but her family thought she was suffering from an apoplectic fit.
However, doctors at the People Hospital 115 did a CT scan and diagnosed a stroke, with blockage in blood vessels of the brain - - a condition that could have easily killed her or rendered her totally paralyzed.
From the 160 inpatients being treated in the Hospital's Blood Vessel Disease Ward on September 17, it was noted that 16 were young people of around the age of 40. In other hospitals in the City like Nguyen Trin Phuong, Cho Ray and Medicine University, stroke patients are in large numbers. 
Dr. Tran Chi Cuong of the Medicine University Hospital said the disease used to be common among elderly people, however nowadays it takes a toll on younger people.
Each month, the hospital receives 50 stroke patients from 20 and 30 age groups, said Dr. Cuong.
Stroke is the third most severe cause of death after heart attack and cancer.
In Vietnam, each year 200,000 million people suffer from a stroke, and 11,000 succumb to the disease or suffer part paralysis of the body.

As per statistics, every 45 seconds at least one person in the world suffers a stroke, while every three minutes one person dies of the disease, which has also affected 20 percent of the world population.
Doctor Tran Chi Cuong
Experts say that the rate of young people suffering from a stroke is increasing from 1.7 percent to 3 percent and male numbers are four times more than females. Even a minor stroke, which is seemingly harmless, can leave a patient dead or disabled.
Experts added that bad living habits are one of the causes of the disease among most males. Most stroke male patients smoke and drink. Females were hit by stroke because they lived under stress of office work, house chaos and caring for children.
Doctors in Cho Ray Hospital conducted a survey that proved that industrial lifestyle caused a high number of people to suffer a stroke at an early age.
Despite the danger signs of the disease, many people do not recognize symptoms of the disease and their family members misinterpret the signs and begin home treatment of the disease with traditional methods such as rubbing of coins or acupuncture and ignore the vital early treatment hours that can save a life.