Parents and public are seriously concerned over an increase in the number of sexual assaults on young defenseless girls, which has once again raised a debate on better sex education in schools.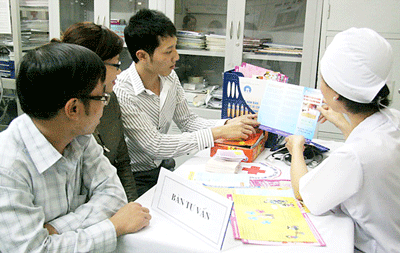 A sex consultation being held by a medical staff in a school in HCMC (Photo: SGGP)
In the last three years, the number of juvenile females being sexually assaulted or having early sexual relations with boys or becoming pregnant while still in junior high school seems to be on the rise.
This reflects a decline in the moral standards of our society and has now sent alarm bells ringing for the need for better sex education.
Young people do not have the right knowledge on reproduction, birth control and hazards of sexually transmitted diseases.
According to the latest survey by a group of doctors at the Pharmacy University in Ho Chi Minh City, conducted in three large public maternity hospitals of Hung Vuong, Tu Du and the Reproductive Healthcare Center, out of 90,649 pregnant women, 1,477 minor girls arrived at the hospital in labor.
In addition, abortion rates are on the rise among teenage females of which 3,471 are juveniles from among 60,352 going for an abortion.
Hence, sexual awakening is a matter of great urgency and necessary to integrate into the school curriculum. Nguyen Hong Minh, headmistress of Thuan Kieu Junior High School said that in practice, eighth graders are taught a little of the human anatomy and how a baby develops in a mother's womb.
Psychologist Tran Van Duong of the psychological consulting center ATC said it is time for changes in sex education as relationships between parents and children are so loose and parents rarely teach sex education. Teenagers are easily influenced by bad guys and what is on the internet, which results in abuse or assault by adults.
Dr. Nguyen Quoc Chinh of the Reproductive Healthcare Center said only 36.8 percent of juvenile girls use birth control in their first sexual intercourse while girls from 12-15 years of age have no notion of birth control methods.