Nguyen Van Binh, chief of the Preventive Medicine Department in Ho Chi Minh City warned of a severe epidemic as 17,000 cases of hand-foot-mouth disease have been reported in the country, with South Vietnam reporting 13,600 cases alone.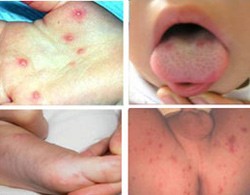 Some symptoms of the HFM disease
Moreover, 90 percent of the afflicted patients have succumbed to the disease. Binh blamed the outbreak to a new etiological agent, Enterovirus 71 (EV71) of the sub-genotype C4 which causes severe complications.
Meanwhile, the Pasteur Institute in Ho Chi Minh City claimed that 50 out of 15,000 patients infected with hand-foot-mouth disease in South Vietnam have died this year, tripling the death toll from the same period last year.
Localities with the largest number of patients are Ho Chi Minh City, and the southern provinces of Dong Nai, Binh Duong, Long An and Tien Giang.
The Ministry of Health and epidemiologists are alert on new developments of the virus and the disease. Any new developments will be reported immediately. Binh warned that more children may contract the disease as its peak infection time falls between the months of August till November.