The Poison Control Center at Hanoi-based Bach Mai Hospital yesterday admitted seven more victims of  toxic alcohol.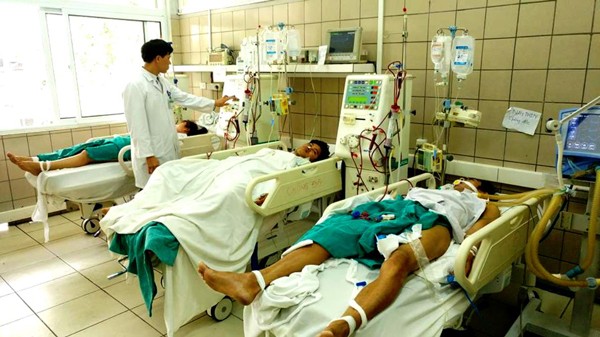 Poisoned students are treated in Bach Mai Hospital (Phto: SGGP)
Deputy Head of the center Dr. Ha Tran Hung said that all seven were in critical condition. They were treated by a method combining hemodialysis and hemoperfusion; three of them fell in coma and had to put in ventilator. They are students of Hai Duong Pedagogy School in Ha Noi and all of them including five male and two female are from the highlands province of Gia Lai.
They bought 1.5 liter of wine without brand from nearby eatery to celebrate Women's Day on March 8 in their motels in District Thanh Xuan. On the next day, some of them suffered headache, blurred vision and vomited blood; consequently, they were rushed to the infirmary.

Medical workers of the center warned of a surge of poisoning cases recently. From February 22 to March 8 it has admitted 14 cases of poisoning including two dead. Noticeably, patients said that they bought wine from eateries in districts Ha Dong, Phuc Tho, Dong Da, Thanh Xuan and Hoang Mai.

Following the soar of methanol-tainted alcohol in Hanoi, inspection teams enhance visits to restaurants in above-mentioned districts to discover and seize toxic alcohol. Within one week, inspectors paid visits to 200 restaurants and wine businesses and seized 2,000 liter of wine without clear origin.