The fear of swine flu spreading has closed some boarding schools and universities, as some students have been found to be infected with the H1N1 virus.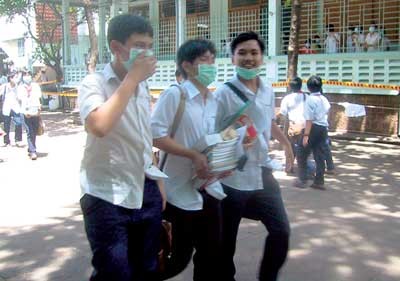 Nguyen Khuyen High School students allowed to go home to prevent them from contracting the disease (Photo; SGGP)
The managing board of the Royal Melbourne Institute of Technology (RMIT) decided to close the university until August 3 as three students and one tutor have been infected.
Around 4,000 Vietnamese and 200 foreign students study at the university.
Fifty-one schoolboys and girls of Nguyen Khuyen High School, Ward 13, Tan Binh District, have been quarantined at the school.
Health authorities announced eight of them are positive for the flu virus.
Meantime, 73 students and five teachers of Ngo Thoi Nhiem High School were similarly afflicted with the disease, said Dr. Nguyen Van Chau, director of the city Department of Health.
The University of Science and Kumon Junior School, District Phu Nhuan, also announced they had students testing positive for swine flu.
Dr. Chau said students at RMIT, University of Science and Kumon contracted the disease due to close contact with foreigners.
The Department of Health and the Department of Education and Training (DoET) decided to shut the boarding junior and high schools for 15 days.
DoET director Huynh Cong Minh directed its subdivisions in districts to close educational establishments and monitor pupils.
A doctor working at Columbia Asia clinic in District 1 was confirmed to be positive for the virus on July 23 and has been isolated at home.