Recent research shows rapid changes have occurred to the bird flu virus (A/H5N1), which could lead to a more deadly, drug-resistant strain of the disease, the Virus Department of the National Institute for Hygiene and Epidemiology has reported.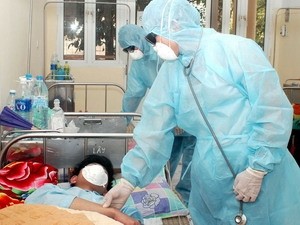 Doctors examine patients contracted with A/H1N1 in Bac Kan Hospital. (Photo: VNA)
Dr. Nguyen Huy Nga, head of the Preventive Health and Environment Department, said that at least seven antigen groups have appeared in the bird flu virus since it was first detected in Vietnam, and that the virus's future development would be hard to predict.
She made the announcement on March 12 during a national conference in Hanoi on avian influenza.
However, the ability to transmit the virus from human to human remains low, Dr. Nga said.
She also warned that a bird flu (A/H5N1) epidemic is at high risk of recurrence due to poor pubic awareness of the disease.
Dr. Nguyen Tran Hien, director of the Virus Department of the National Institute for Hygiene and Epidemiology, said that in addition to raising awareness about genetic mutations related to the bird flu virus, people must be educated about how to prevent the disease.
Dr. Nga said that in remote areas, local people still slaughter and eat meat from sick chickens. This may cause the disease to spread further, she added.
The Environment and Preventative Medicine Department has asked people to take strict measures to prevent another outbreak of A/H5N1. The department also stressed the need to tighten control of poultry transport, trading and slaughtering activities.
Anyone who suspects they may have contracted bird flu is advised to seek immediate medical treatment, the department added.
According to experts, the most effective measure to prevent an outbreak of the deadly disease is to promote information dissemination. Public awareness of the virus has remained relatively low since bird flu first broke out in Vietnam seven years ago.
Since the beginning of this year, five people in Vietnam have contracted the A/H5N1 virus, of whom two died.
Bird flu has claimed the lives of 60 people in Vietnam since December 2003.